Winter Leisure Membership
We're excited to welcome you back for a winter of fun with our pool membership. Splash around in the heated pool, entertain little ones in the small pool with play area, host a children's birthday party, hit an aquafit class or head to the gym for circuits.
How to book
---
Off Season (Nov 8th 2023 - Feb 29th 2024)
9.30am - 5.30pm (Wed-Sun)
Booking for any activity is essential. Book up to 7 days in advance through the website. To learn more about making a booking, please follow this link to our helpful guide.
Signing up
---
To sign up, fill out a membership form and email it to info@ladrambay.co.uk with a passport photo attached for your pass. Alternatively, please bring a passport photo for your pass.
Christmas Shut Down
Our facilities will be closed between 24/12/23 and 26/12/23 inclusive, plus 31/12/23 to 2/1/24 inclusive. Management reserves the right to amend opening times without notice.
Membership Prices
Family (2 adults & up to 3 children)
£195.00
Access Nov 8th 2023 - Feb 29th 2024. Book through the website up to 7 days in advance.
Pay As You Go
Mini Golf
Family (2 adults & up to 2 children)
£12.00
Access Nov 8th 2023 - Feb 29th 2024. Book through the website up to 7 days in advance.
Main Pool
The large pool is suitable for older children and adults. If you have lots of energy to burn, you can take part in some of the instructor-led activities, including Water Walkerz, Sea Scooters, and Aqua Peddlers.
Small Pool with Play Area
Splash around with your kids in the small pool with play area, where there's a slide, fountains and plenty more to occupy little ones. The Lifeguards are always present to ensure the safety of all swimmers.
Sauna and Steam Room
Take a minute to unwind in our sauna, steam room or bubble pool. When the summer heat arrives, why not take a seat on one of the sun loungers on the outdoor terrace.
Jurassic Adventure Golf
Put your putting skills to the test on our challenging Jurassic Adventure Golf Course. You can work on your swing while being watched by the fantastic dinosaur recreations that adorn the course.
Fitness Classes
Get fit and have fun with our fitness classes, £3.50 for members and £7.00 for non-members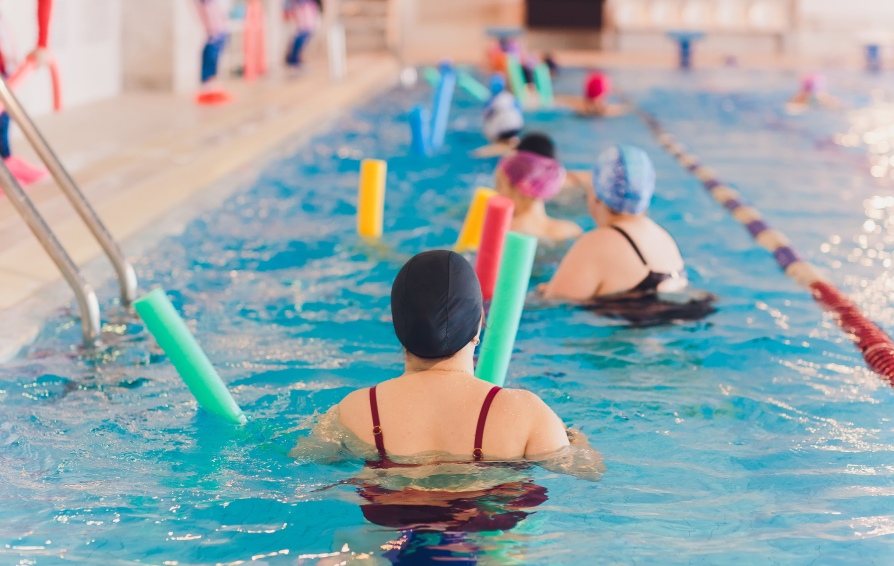 Commencing 9th November 2023
Thursday 9.30am-10.15am
A lively water-based workout that caters to all fitness levels and abilities.
Commencing 8th November 2023
Wednesday 12.30pm-1.15pm
Friday 12.30pm-1.15pm
A guided training experience that will leave you feeling energised and inspired.
Pool rules
Non-swimmers and children under the age of 10 must be accompanied in the pool by a responsible adult and wear suitable swimming aids at all times.
The responsible adult must maintain active and constant supervision of the child/children at all times. They must be in swimwear and in the pool.
Children aged 3 and under must be accompanied by an adult swimmer aged 16+ at a ratio of 1 adult to 1 child in the main pool.
Reviews
Beautiful place to stay. Luxurious holiday home, plenty of space, park well kept and so clean. Staff, lovely, friendly & welcoming. Nice, quiet, peaceful break.
Claire Whelton
Accommodation - Diamond with hot tub. spotless and very modern. The location was beautiful and the rock pools were great for the kids.
Adam. E
Just returned from Ladram for the half term holiday. Visited earlier in the year & decided to come back.
Jane. B
It was our first visit here and it did not disappoint. Lovely accommodation. Beautiful setting and views, adventure playground and soft play for our 3 year old.
Suzanne
Didn't leave the site much as so much to do. Kids loved the pool, splash park, park, crazy golf, soft play and the beach.
Clare L