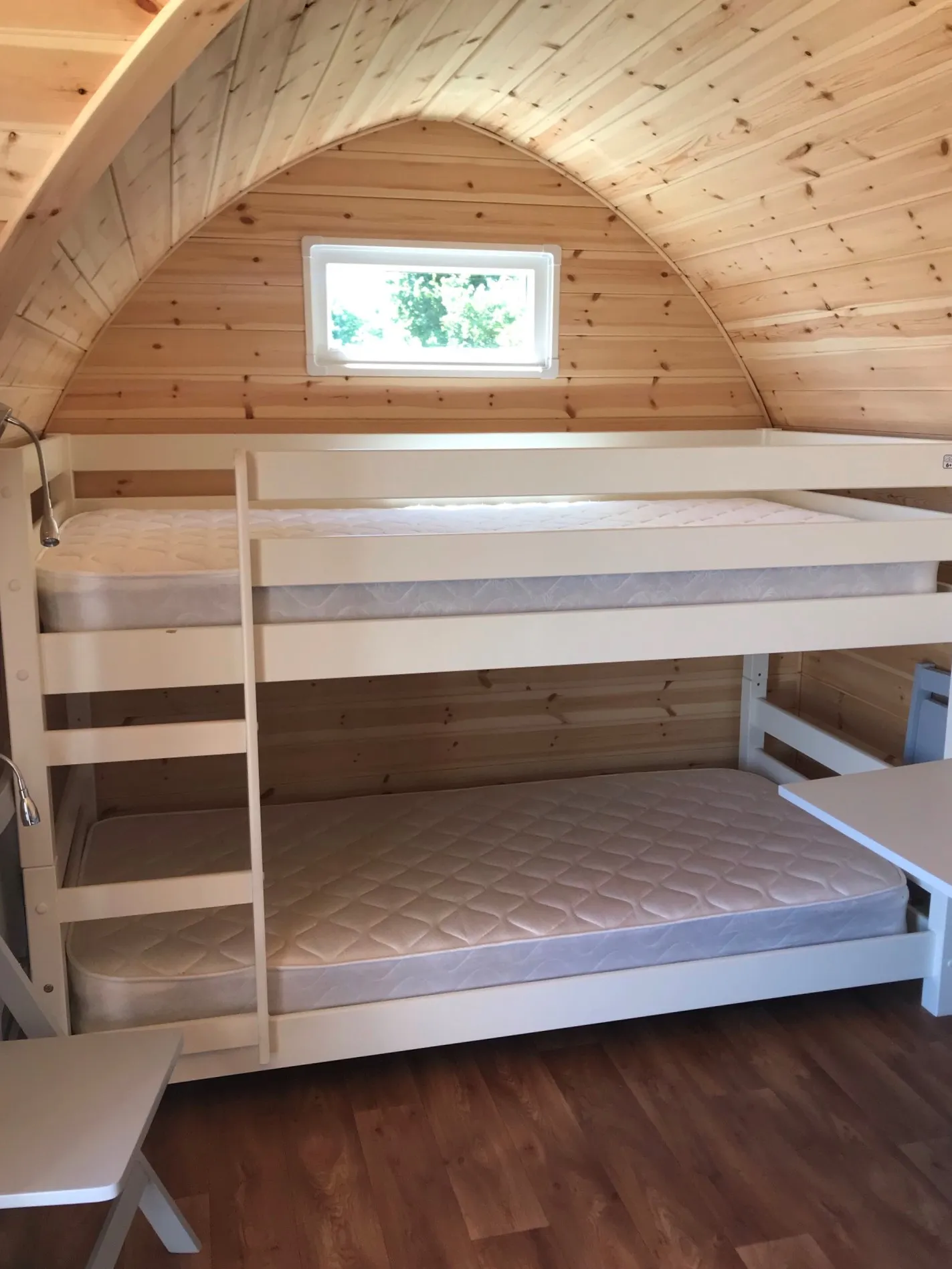 Facilities
Living area with a table and 4 stools
Table top fridge
Electrical sockets
Outside seating
Beds
Open plan bedroom
1 Double bed
1 set of Bunkbeds
Extras
Nightly Entertainment included
Swimming Pool Passes included
Useful info
Check-in time 3pm
Bedding not included
Parking directly outside
Check out time 9.45am
Enjoy the great outdoors but the hassles of camping not quite your style? Maybe you're already a fan of our Bell Tents & Glamping pods and fancy a new adventure.
Brand new in 2021, our Otterpods provide the perfect base for your family holiday with a double bed and bunk beds for the kids. A table and chairs plus a small fridge are also included. Check-in will be available from 3pm on the day of your arrival.
Complete with double glazing, heating & electrics, and your own parking spot adjacent to your accommodation, our Otterpods provide a cosy, comfortable & convenient stay at all times of the season.
Situated within the Smugglers area of the park and boasting stunning views across the bay, our Otterpods are just a short walk to our award-winning amenity blocks which include washing up facilities, toilets, showers and family bathrooms.
Want to bring a pet? Not a problem simply select our Pet-friendly option when making your reservation.
Please note the Pods do not come equipped with cooking equipment, crockery or cutlery, and bedding is not included and we recommend bringing sleeping bags and pillows.
Reviews
We visited as a family in October 2022. This is the first time we have been here and we was not disappointed! Couldn't recommend this place for a caravan holiday enough. The views are beautiful, and the beach is on your doorstep.
GAH94
Our 2nd stay at Ladram Bay, the first time staying in one of the Bell tents and this time staying in one of their lovely glamping pods (Otterpod 1) Its a beautiful site with everything you need; you can hire paddle boards and a boat at the sites own private beach.
Daniel
Lovely modern and comfortable glamping pod. Excellent clean bathroom facilities and clean site. Brilliant facilities for the family with nightly entertainment.
Ben T
We spent a week on one of the camping pitches at Ladram Bay and had a fantastic time. Lovely view of the sea from the pitches. Each pitch had electric and water. There was a freezer for ice blocks.
Lonacat
Frequently Asked Questions
How can I book a holiday?
You can call us on 01395 568398 or book online.
All of our glamping accommodation is pet friendly. Your furry friend is always welcome.
Beautiful place to stay. Luxurious holiday home, plenty of space, park well kept and so clean. Staff, lovely, friendly & welcoming. Nice, quiet, peaceful break.
Claire Whelton |
Accommodation - Diamond with hot tub. spotless and very modern. The location was beautiful and the rock pools were great for the kids.
Adam. E |
Just returned from Ladram for the half term holiday. Visited earlier in the year & decided to come back.
Jane. B |
It was our first visit here and it did not disappoint. Lovely accommodation. Beautiful setting and views, adventure playground and soft play for our 3 year old.
Suzanne |
Didn't leave the site much as so much to do. Kids loved the pool, splash park, park, crazy golf, soft play and the beach.
Clare L |