Book your Summer stay at Ladram Bay and give the family all of this to look forward to!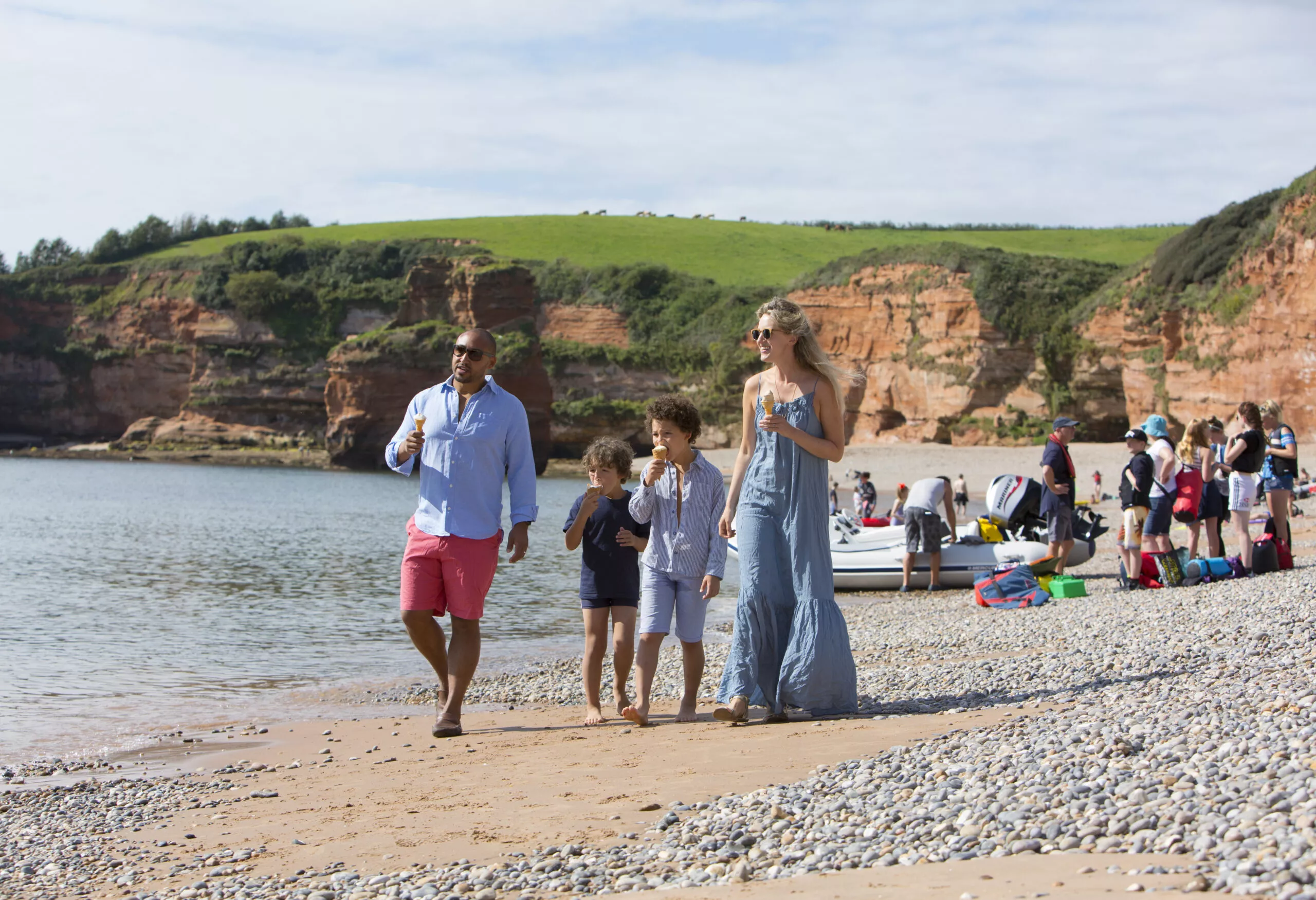 What's On Over Summer?
We're excited to welcome you back for a winter of fun with our pool membership. Splash around in the heated pool, entertain little ones in the small pool with play area, host a children's birthday party, hit an aquafit class or head to the gym for circuits. Signing up To sign up, follow this link to download our membership form and email it to info@ladrambay.co.uk with a passport photo attached for your pass. Alternatively, please bring a passport photo for your pass. How to book Booking for any activity is essential. Book up to 7 days in advance via this link. To learn more about making a booking, please follow this link to our helpful guide.
Winter Leisure Membership
We know that booking holidays can often feel like a stressful event, with so many options and things to consider. We've put together our top tips for perfectly planning your 2024 holiday. Plan around 2024 bank holidays Not only are long weekends at Ladram Bay the perfect escape from reality but booking a whole week off around a bank holiday means you get to save a day or two of your all-important holiday allowance and have a nice long (and well needed) break, too. Book for annual events Outside of the summer holidays, we host plenty of entertainment around the Easter holidays and Halloween to name but a couple. There's fun for the whole family – from Easter egg hunts for the little ones to fancy dress parties for young and old. It's always worth a visit to see what we've got going on! Check out or visiting acts, too. With a full entertainment programme all season long, there'll be something you love. Book ahead Save on stress and plan your 2024 holiday well in advance. You'll thank yourself next year! We offer a deposit scheme that allows you to pay the balance eight weeks in advance of your holiday, which gives you plenty of room to breathe. Look at off-peak dates We know the buzz of the summer holidays isn't for everyone. For maximum R&R, look at dates outside of peak season when the weather is still warm but the little ones are back at school. Our season runs from March to November, so there's plenty of time to explore the Jurassic Coast in a laid-back fashion. Check for last-minute staycations Not a forward planner and fancy a spontaneous getaway? Why not. It's always worth checking availability online or giving us a call on 01395 568398 – you never know what will be available last-minute in your budget. Explore different accommodation types We've got lots of different accommodation types here at Ladram Bay depending on what kind of holiday you fancy. If you love being in the great outdoors, bring your tent or tourer and enjoy views out across the bay, or glamp in one of our Otterpods and experience the best of both worlds. If a little luxury is your idea of a holiday, our sea-view holiday homes and lodges can't be beaten for the ultimate family getaway. Give it a try and have a holiday you won't forget.
Booking your 2024 holiday – our 6 top tips
The sun has arrived here at Ladram Bay and we're all looking forward to a busy summer season – we hope you are too.  We'd like to say a big thank you to all of you who have commented on the cleanliness of the park and how nice the grounds are looking. We must admit, the flowerbeds are some of the best we've seen on any park, so a big shout out to all the hard-working gardeners and grounds teams. A big thank you, too, to the whole team here at Ladram Bay for dealing with everything that gets thrown at them on a day-to-day basis. We're sure you'll agree they're all superstars.  There's been some famous faces here at Ladram Bay over the last few months. It's been great to have been showcased on both ITV's This Morning when we welcomed Josie Gibson to the park – airing in August – and Channel 4's Best of British By The Sea earlier this year with Ainsley Harriott and Grace Dent. It's wonderful to see our park get recognised nationally. It was also great to invite Exeter City Football Club for lunch as part of their pre-season schedule earlier this month. It never stops! We've got various street food vendors coming our way throughout the summer months as well. Please let us know which ones you enjoy and we'll make sure they keep coming back. We're pleased to introduce our recent Team Stars to you – these are the team members who shine in their roles and help create five-star stays. Make sure to say congratulations to them when you next see them.   Sales  Following a two-year absence, we're very excited that we can host our ever-popular owner's events once again.Having sold almost all of our holiday homes by virtual tour for the past two years, we're delighted that we currently have a limited range of holiday homes that can potentially be ready within a week or two, in time for a superb summer season. The Three Rocks We're lucky to have so many of our amazing team returning from seasons past so look out for familiar faces.Basking in the sunshine has inspired the bar team and we're excited to introduce our Summer Cocktail menu as the fairly fruity and the magnificently magical emerge from their creative minds! It's getting heated in here as the team compete in their summer incentive to see whose cocktail is the most popular. Let us know your favourites and tag us in your posts and stories with #pebblesatladram. As always, we've found our selection of Small Plates to be proving hugely popular amongst you, if you haven't had a chance to indulge, make time in the sun. Check out our specials board as Caroline and the team introduce us to some of their creations. This month we've seen some delicious choices including pan-fried Tuna Steak, Roasted Lamb Shank, Chilli & Pepper-Crusted Swordfish and fresh Scallops with Black Pudding. To save disappointment, remember to book your restaurant reservations via the app, website, email or at the host desk, with forward planning advised. Leisure Adult Activities: Along with the usual leisure selections to keep you healthy and active, rested and recovered, challenged and chilled out, we have a couple of new group exercise classes to offer:- Gym Circuits with Ian – Tuesdays & Wednesdays 6.00pm-6.45pm Outdoor Fitness with Kai – Tuesdays & Saturdays 9.00am-9.45am Aqua Circuits with Ian & Rebecca – Tuesdays 9.00am-9.45am. New for 2022 we are offering 1-1 personal training sessions with our new Gym Instructors Kai and Jenny and Leisure Manager Ian to help you with your health and fitness goals! Swimming PoolJoin us for the popular Adult swim sessions 8.00am-9.00am with a choice of an active or leisurely start to your day. START ActivitiesNew for 2022 we are excited to be able to offer more Scuba Diving sessions on the 10th and 17th August from 12.30pm-2.00pm under the expert guidance and support from Exped Diving. Limited places are available and bookings are being taken now, so don't miss out of this fantastic fun session for those aged 8 and over. We have been giving our climbing wall a new makeover, with the holds deep cleaned and reset for new challenges and easier lines for the younger climbers aged 4 and over. For more information contact the Leisure Reception direct. Entertainment As summer approaches we look forward to lots of exciting events. Enjoy visiting live acts including X Factor's Chico and Stevie Ritchie, as well as many other highlights including Daytime acts such as The National Festival Circus, Believe A Bubble & visits from Exmoor Zoo! We've got plenty of our own teams' shows, plus lots of fantastic daytime activities including our ever-popular Slime Making, Pottery Painting and the return of the Chocolate Party! Be sure to come on down to Waves Bar and join in the fun. Shop & Beach Shack We're well stocked and ready for a busy peak period. Make sure to check out the new swimwear lines and dry robes ready for your days at the beach. Plus, we've got plenty of new gift ideas and past favourites still available. Billy and his team will be on hand all throughout the summer period, while Sarah and her team are busy developing some new ice cream specials. Our full food menu will also be available throughout peak season, too. Reception We hope you're excited about the summer as much as we are. We are pleased to have welcomed back Jess and Dylan for the summer holidays – they'll be here to welcome you. We are expecting to be very busy in the next six weeks so just to inform you we are now open until 7pm on a Saturday throughout the peak season. Marketing We have a new face in the marketing department. Steph is joining us as Marketing Manager. Please do say hi when you see her – probably with a camera in hand!  Finally, we'd like to say a very big thank you to all of you who share your snaps when you're out and about on park. We love seeing you all enjoying yourselves on social media – please keep it coming. 
The Lookout from Ladram – July 2022