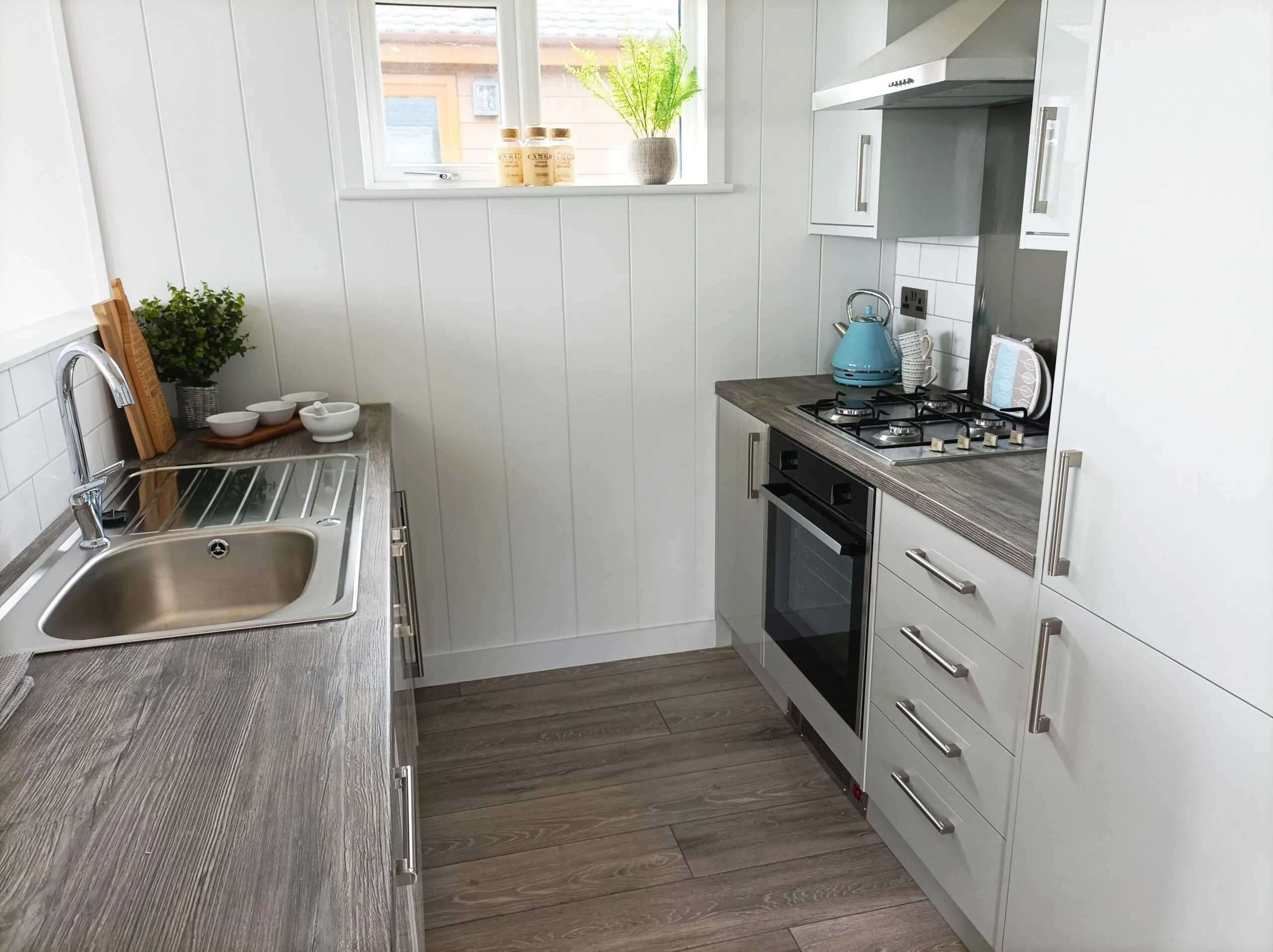 2023 Pathfinder Tuscany Ocean Lodge 40 x 16
£190,000
The Pathfinder Tuscany Ocean Lodge encapsulates the rustic, getaway feel of the Italian Tuscany region where all stresses are relieved from city-life.
Arriving at the Tuscany Single, you are greeted by the living room area with 2 serene sofas and a traditional cream electric wood burning stove sitting on a raw sandstone hearth. This space is great with the apex to floor windows, to look over the breath taking sea views that are to be seen from its elevated position. Moving into the dining area, the solid oak table and bench seats allow maximum room perfect for a quick bite but also a relaxed dinner for 4. The modern kitchen is finished with gloss grey cabinets and is well equipped to cater for a romantic meal for two or a family feast with all state-of-the-art appliances making life easy.
Natural Berber carpet flows through both bedrooms, the master bedroom is light and airy with two full height windows and leads into a walk in wardrobe area and en-suite which has the luxury of a large 1200 x 800 shower, toilet and and square vessel basin. The second bedroom is fitted with twin beds and a further built in wardrobe making maximum use of the space. The Ocean theme flows through the bedrooms which both benefit from blue tongue and groove feature walls. The bathroom holds a 1600 bath with shower over where you can soak and relax after that long walk or day on our private beach.
The Tuscany Ocean at Ladram Bay is the perfect bolt-hole where you can escape and hide for pure holiday-time where enjoyment is essential and relaxation is guaranteed.
Contact our sales team today to find out how easy it is to own your own Holiday Home.
Frequently Asked Questions
What annual charges can I expect?
In addition to your utility bills, rates and insurance, you will pay an annual pitch fee which contributes towards the running costs of the Park. Ask for a copy of our site charges sheet which details current fees.
The season for a holiday home lasts eight months, running from mid-March to mid-November. Our Luxury Lodges have a season of 10 months, which runs from 1st March to 5th January.
How long can I keep my Holiday Home at Ladram Bay?
You may keep your Holiday Home at Ladram Bay for 15 years starting from the year of manufacture. The 40'x16′ Luxury Lodges can be kept on site for 30 years and the 40'x20′ Luxury Lodges for 40 years, both from the date of manufacture.
How much deposit do I have to pay to secure my Holiday Home?
A non-refundable deposit of £500 will secure any unit across the park for a limited time.
How quickly can I move into my Holiday Home?
If the Holiday Home has already been sited, we're pleased to advise that you can move in as soon as we receive the full balance.
How do I choose a plot for my Holiday Home?
When discussing ownership with one of our sales advisors you will be provided with a price list showing both the homes that are sited for sale and the available plots where homes can be sited.
Can we part-exchange our touring caravan?
We are happy to offer a part exchange value for touring caravans.
Can I sublet my Holiday Home?
Owners are permitted to sublet their Holiday Home and guaranteed income can be made by subletting through Ladram Bay.
Dogs are welcome on the site, recreational park and coastal paths. Unfortunately, they are not permitted on the beach at any time.