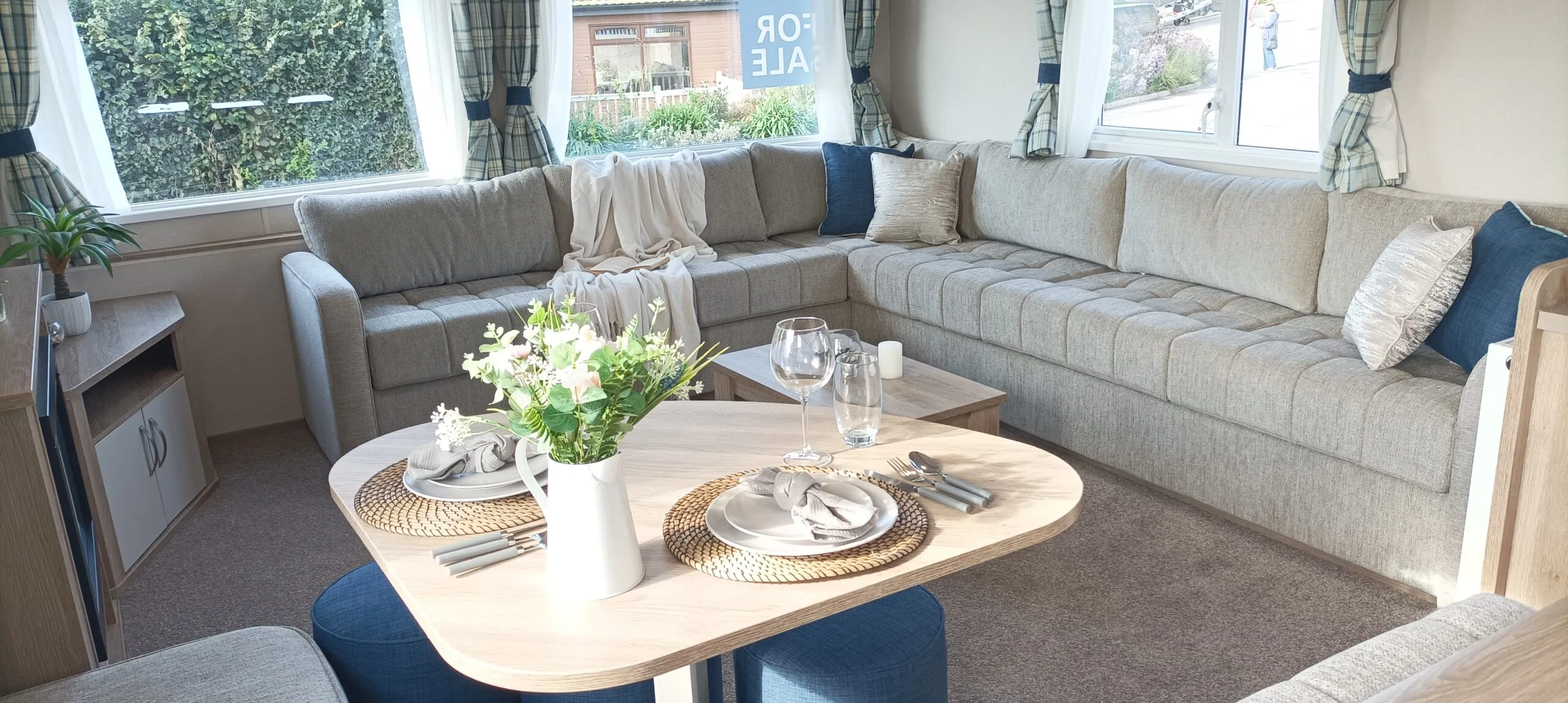 2023 ABI Keswick 36 x 12
£75,000
The stylishly designed ABI Keswick has recently arrived on the show ground at Ladram Bay with its shaped front bay but traditional three bedroom layout.
This model offers all of the standard features of an ABI caravan together with the additional extras of double glazing, central heating, additional insulation, integrated fridge freezer, integrated microwave and an L shaped dining table and stools.
The living area has ample comfortable sofa seating with pull out sofa bed, electric fire and surround and TV cabinet. The master bedroom has a wardrobe and dressing area and the two twin bedrooms also benefit from wardrobe storage. A shower room and separate toilet complete this great value holiday home.
The purchase price includes decking, siting and connections.
To view this Holiday Home or other options available, call our friendly Holiday Home Ownership team on 01395 568761 to book your park tour soon
Contact our sales team today to find out how easy it is to own your own Holiday Home.
Frequently Asked Questions
What annual charges can I expect?
In addition to your utility bills, rates and insurance, you will pay an annual pitch fee which contributes towards the running costs of the Park. Ask for a copy of our site charges sheet which details current fees.
The season for a holiday home lasts eight months, running from mid-March to mid-November. Our Luxury Lodges have a season of 10 months, which runs from 1st March to 5th January.
How long can I keep my Holiday Home at Ladram Bay?
You may keep your Holiday Home at Ladram Bay for 15 years starting from the year of manufacture. The 40'x16′ Luxury Lodges can be kept on site for 30 years and the 40'x20′ Luxury Lodges for 40 years, both from the date of manufacture.
How much deposit do I have to pay to secure my Holiday Home?
A non-refundable deposit of £500 will secure any unit across the park for a limited time.
How quickly can I move into my Holiday Home?
If the Holiday Home has already been sited, we're pleased to advise that you can move in as soon as we receive the full balance.
How do I choose a plot for my Holiday Home?
When discussing ownership with one of our sales advisors you will be provided with a price list showing both the homes that are sited for sale and the available plots where homes can be sited.
Can we part-exchange our touring caravan?
We are happy to offer a part exchange value for touring caravans.
Can I sublet my Holiday Home?
Owners are permitted to sublet their Holiday Home and guaranteed income can be made by subletting through Ladram Bay.
Dogs are welcome on the site, recreational park and coastal paths. Unfortunately, they are not permitted on the beach at any time.