Over the years Ladram Bay has been home to or visited by everything from dolphins, blue lobsters and Red Arrows. This post guides you through techniques you can use for capturing those special holiday moments (when they arise) on anything from an SLR to smart phone.
To get an expert opinion we asked professional photographer Tony Cobley for 3 pointers would-be photographers can use to improve their technique.
Tony is a professional photographer based in South Devon and specialises in commercial marketing photography and photography tuition workshops – he also knows Ladram Bay well having photographed here for the latest photoshoot earlier this summer.
Get Close
Photos have much more impact if you fill the whole frame with your subject whether it's the kids, the dog or anything else!
Higher or lower
Try taking pics from super high or super low and you'll be surprised how much "funkier" things look!
Tiltage
Try tilting the camera left or right when shooting close up portraits. It makes things look more dynamic!
Photography Tips
So you've got your technique on point, now its time to find the right surrounds, light, timing and equipment, these tips will point you in the right direction.
1. Your surroundings
You've found a focal point to your picture but a great background adds context. Be sure to consider the background in which your subject is set.
2. The right light
You will typically find your best pictures will occur when the sun is low in the sky (post-dawn / pre-dusk), this is because the suns light is softer. You can still take great photos in full sunlight but the chances of strong shadows make capturing photos slightly harder. This image also incorporates Tony's tip of taking the photo from a low down position.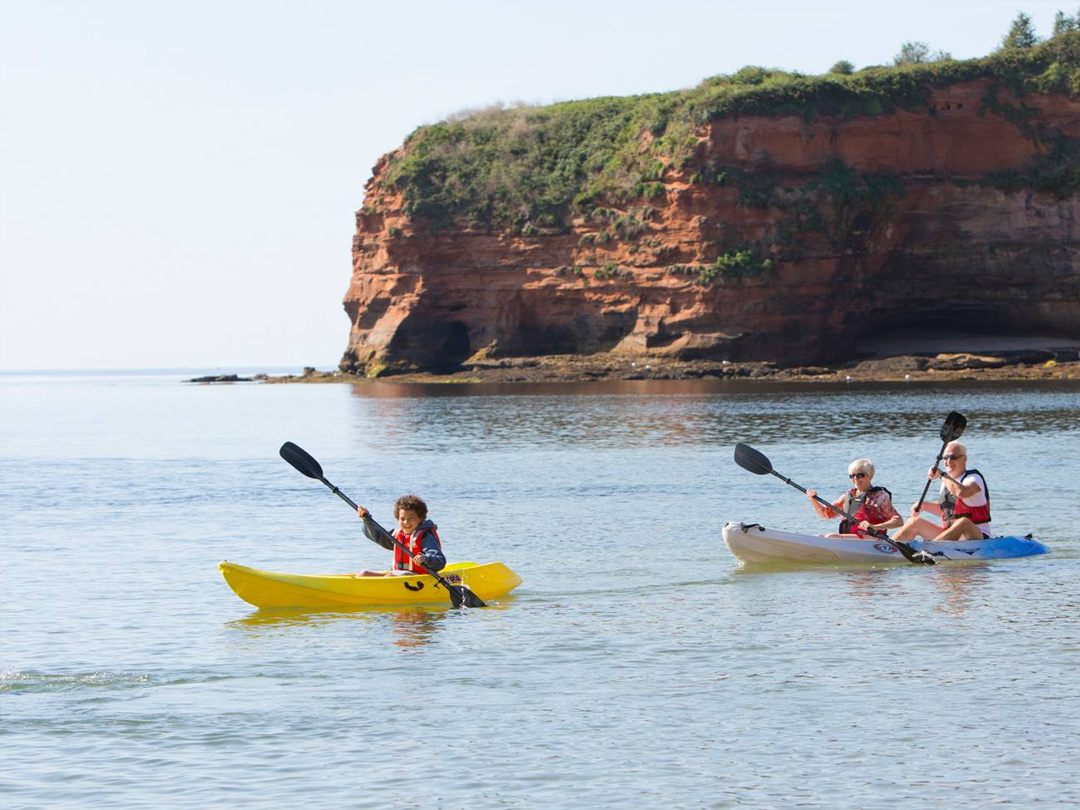 3. Patience
Photographing sunrises, sunsets and low-tides is easy (ish), you just need to know what time they occur and with a helping hand from the weather you've got a great photo in the making. When it comes to wildlife a little more patience / luck is required and be prepared to capture nothing – the trick is not to give up.
4. Equipment
You really don't need an expensive SLR camera to take photos, in fact many of the best photographs are taken on smart phones because we're always carrying them.
Countryside, cliffs & coast
Ladram Bay is set in 63 acres of coastal countryside meaning there is never a shortage of animals flying, swimming or being spotted in and around the park at various times of the year. This section of our photography guide teaches you a valuable lesson when visiting Ladram Bay – keep a camera on you at all times; you never know what you might spot!
In the sea:
If you're at sea you might catch a glimpse of a dolphin- however not all are this sociable. Also look out for seals – they like to sunbath on the sandbanks in Exmouth.
In the skies
The Red Arrows typically fly over Ladram Bay en route to airshows along the south coast (Sidmouth, Dawlish and Torbay) every summer during August, this makes for some pretty colourful skylines.
Not everything in the skies are as obvious and loud.  In May 2016 James Clews captured this incredible photo of a Peregrine Falcon flying above Ladram Bay. Falcons are not overly common at Ladram but if you do spot one you will need a steady hand to photograph it – they can fly at speeds of 200mph!
The regulars at Ladram Bay can make for equally interesting photographs, this Instagram image of 2 gulls looking out to sea proves that. Just remember to keep one eye on your ice cream.
Staying at Ladram Bay?
We want to see your favorite holiday photographs, please share your adventures via the Ladram Bay Facebook or Instagram accounts. Happy Snapping!