For those wanting to take in a bit of local history, few places in Devon provide such an enduring legacy as Powderham Castle, one of England's oldest family homes. Sir Philip Courtenay began building it in 1391 and it has remained in the same family to this day, currently home to the 18th Earl & Countess of Devon.
Did you know: The seat of 'Earl of Devonshire' is actually based in Derbyshire and should not be confused with the Earl of Devon.
Interesting facts:
Their are 650 follow deer within Powderham's grounds.
Until 2004, Powderham was home to Britain's oldest resident Timothy the Tortoise (1839-2004). She was actually female, but this was only discovered in 1926 when it was decided 'he' should mate.
Located in beautiful surroundings just 40 minutes from Ladram Bay and beside the Exe estuary, Powderham Castle is truly a Devon must see and great family day out.
Visit one of the regular family events that take place throughout the year, take a guided tour of the grounds that are steeped in 600 years of history, stroll through the Walled Garden Play Area & Pets Corner or take a safari in the Deer Park. There is certainly lots to do and see at Powderham Castle.
Local knowledge: The Exe Estuary Cycle Route runs right past Powderham Castle, cyclists can travel from Exmouth > Topsham > Countess Wear > Powderham > Starcross (via ferry) > Exmouth.
To plan this trip read Route A of Ladram's 'family cycle routes of Devon' blog post.
Planning a day trip? Use the interactive map to find your way from Ladram Bay Holiday Park to Powderham Castle.
Approximate journey time: 35 minutes
Distance: 17 miles / 28 kilometres
No dogs (with the exception of guide dogs)
Our latest post highlights the benefits of Holiday Home Ownership in the UK. Obviously we're going to be (a little) biased for this one but for those of you who may never have considered Holiday Home Ownership it's a pretty compelling argument. 1. Having a hassle-free holiday Nobody likes being stuck in crowded or overpriced airports, putting up with cancelled flights or unsuitable accommodation. The small details such as overseas insurance, transfers or setting aside holiday money can soon add up to become more hassle in our busy lives. Luckily, if you have a Holiday Home in the UK, you won't have to put up with any of it. Once you've bought the home, that stress can all be a thing of the past. 2. Time in a great location There's nothing better than spending time in an area you love, exploring the culture, activities, food and attractions, going for long walks or even just pottering about. 3. Holidays on demand A Holiday Home is yours to use at any time when you so choose, and if you buy somewhere closer to home a last minute escape is always an option. 4. Your escape, your way When you have a Holiday Home of your own, there's no need to constantly bring all of your stuff back and forth each time you want to have a break and you can personalise your space to suit your tastes. Spend less time packing and more time relaxing. Everything is right where you left it. 5. Time with the family Buying a Holiday Home is an investment in your family, not just a financial investment. Giving your family fond memories of time spent with each other is priceless. 6. The dog can come with you If you have a Holiday Home in the UK it's easy to take the dog, so none of the family have to be left behind. We allow Owners to bring up to 2 dogs per visit. 7. De-stressing is good for you The perfect time to unwind and de-stress is while you're on a holiday, away from the problems of daily life. If you stay in the UK, you don't need to worry about aspects of local life and travel you're unfamiliar with, and potentially there's less to go wrong. Avoid stress and stay in the UK. 8 Have a tech-break It's hard to put phones down and turn the TV off at home, but when you arrive at your Holiday Home it can be your conscious choice to detox from technology, if you want it to be. 9. An investment opportunity If you're happy to sublet, you could consider the subletting scheme offered by Ladram Bay Holiday Park. The remuneration made from this scheme can certainly help pay toward your site fees and annual expenses.  10. Treat yourself Most of us occasionally also need a little space from time to time, to rest, recharge our batteries and return to our jobs and families healthy, happy and energised. Having you own escape in case you need a bit of peace and quiet can keep you in better shape both mentally and physically so it's not necessarily totally indulgent, it's common sense too. Considering Holiday Home Ownership at Ladram Bay Holiday Park? We've a sensational selection of Brand new and Pre-loved Holiday Homes waiting for your perusal. Simply pop into our Sales Showground or call our friendly team on 01395 568761 to book your park tour. We look forward to welcoming you to our fabulous 5-star park.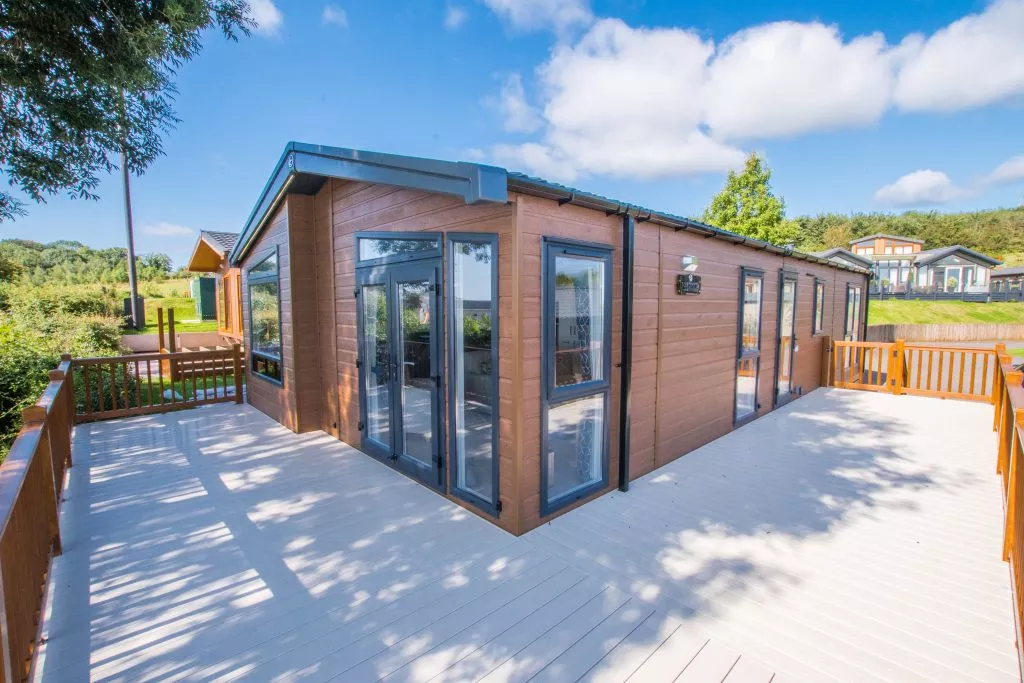 10 Reasons to buy a Holiday Home
On Wednesday 17th July 2019 Mascots from across Devon participated in the annual Adventure Golf championship. Prior to Shane Lowry's success at the Royal Portrush on Sunday, the golfing world's attention was focused Ladram Bay – it just wasn't picked up mainstream media. Many in the club house (also known as the swimming pool complex) were calling this the unofficial 5th major of the year & looking at the team lineups it was easy to see why. Our player guide certainly demonstrates the stiff competition Pickles, Ozzie & Captain Scratch were up against. With so many plots & sub-plots, a riveting narrative surrounded the 2019 event, held one one of Devon's most famous links course. Could Crealy's Blossom Bear emulate the form Buddy the Bear, which had seen him win in 2016 & 2017, or would Gilbert the Station Master become only the second entrant (after Buddy the Bear) to win back-to-back tournaments? Being super profession partiality was required on our behalf, but only the most partisan fan would begrudge 'Appy Angus a victory – having finished on the podium in 2016 (3nd) & 2nd in 2017 & 2018. The Winner: Pickles the Parrot Pickles the Parrot celebrates with the other 10 mascots overlooking Ladram Bay A tense opening round saw little to separate the leading group. The smart money had been on the players with big tournament experience, but as it transpired Pickles the Parrot held his nerve to clinch his first Mascot Golf Championship. In second place was Ella the Owl, who held off a late charge from Captain Scratch. The Ladram Bay mascots are ultimately thrilled with their performance, having beaten the previous best showing of 3rd in 2018 (tied with Pippa Pig from Pennywell Farm). Mascot Golf 2019: Image Gallery Player guide Pickles the Parrot greeting fans at the tee off. Pickles the Parrot Representing: Ladram Bay Previous form guide: Group stage exit 2016 2019 Result: 1st Consistent short game form Ella the Owl Ella the Owl Representing: Hospiscare Previous form guide: New entrant for 2019 2019 Result: 2nd Captain Scratch in the zone Captain Scratch Representing: Ladram Bay Previous form guide: Group stage exit 2018 2019 Result: 3rd Ozzie looks to build on his 3rd in 2018 Ozzie the Otter Representing: Ladram Bay Previous form guide: 3rd in 2018 (tied with Pippa Pig) 2019 Result: Group stage exit Grecian the Lion silencing an Argyle fan Grecian the Lion Representing: Exeter City Football Club Previous form guide: Group stage exit 2017 2019 Result: Group stage exit Buddy the Bear celebrates with the fans Blossom Bear Representing: Crealy Previous form guide: New entrant for 2019. 2019 Result: Group stage exit 'Appy Angus offering advice on the 5th 'Appy Angus Representing: World of Country Life Previous form guide: 2nd in 2018, 2nd in 2017 & 3rd 2016 2019 Result: Group stage exit 2018 winner Gilbert the Station Master Gilbert the Station Master Representing: Seaton Tramway Previous form guide: 1st in 2018 2019 Result: Group stage exit The Dragon gets fired up at the 3rd hole The Dragon Representing: Pete's Dragon Previous form guide: Group stage exit 2018 2019 Result: Group stage exit Ambrose the Bear putting in it Ambrose the Bear Representing: Devon Air Ambulance Previous form guide: Group stage exit 2016 2019 Result: Group stage exit Ledley tee's off with a putter Ledley Representing: LED Leisure Previous form guide: Group stage exit 2016 2019 Result: Group stage exit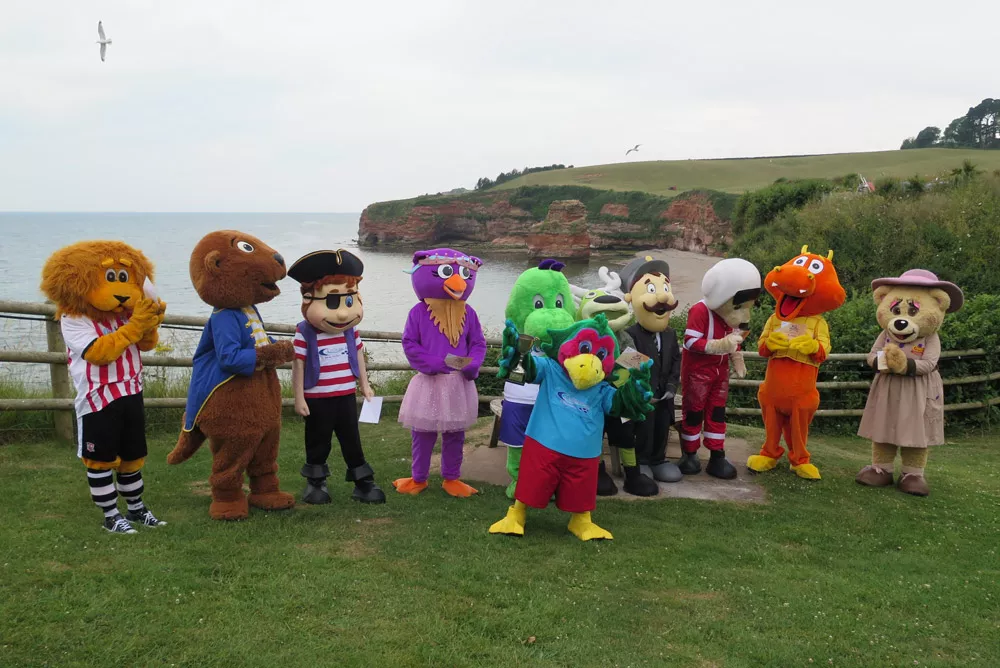 Mascots Golf Championship 2019
In recent years we've made several new additions to our beach facilities aimed at pleasing kids & big kids alike. So if you're new to Ladram Bay or haven't visited in several years, the following post covers things to do whilst on the beach, allowing you to make the most of your family getaway. You've just arrived at Ladram Bay, checked-in, ticked off the essentials shopping list & got your uniform inflatable primed. Firstly take a minute to appreciate your amazing parenting skills & then think about your next port of call, the beach. Use the bullet points (below) to navigate directly to a particular beach based activity. Should it take your fancy, simply click on it to skip to that section. Paddle board hire Kayak hire Motor boat hire Freshly caught seafood Rockpooling at Ladram Paddle board hire… The relatively calm waters of the bay make Ladram an excellent place to try your hand (& balancing skills) at paddle boarding in East Devon. This activity is suitable for competent swimmers only. Cost: Paddle boards can be hired directly on the beach & cost £15 for an hour. Kayaking hire… Our stunning stretch of Jurassic Coast is best appreciated from sea & we can think of few better (or more gratifying) ways to take in the scenery than paddling out on a kayak. Cost: Single person kayaks can be hired on the beach & cost £12.50 per hour. Double kayaks cost £18 per hour. Motor boat hire… Whether your feeling like a lucky fisherman or want to take the children on a maritime adventure, Ladram Bay have motor boats for hire throughout the season. Please note boat hire is weather dependent. Cost: Motor boats can be hired from the beach & cost £35 for 1 hour, £60 for 2 hours and £90 for 4 hours. Freshly caught seafood… Ladram Bay have several (very) seasoned fishermen & being situated by the ocean means we can offer some seriously fresh seafood for guests to cook up. If you are staying with us please ask a member of staff on the beach for quantities & availability – our fishermen might be good but they can't predict what will be caught! Rock pooling at Ladram Ladram Bay provides the perfect rock pooling environment to bring out the zoologist in each of us & is best experienced when the weather is calm & dry as the rock pools will be still and therefore easier to spot creatures. As rock pooling is one of our favourite things to do at Ladram check out our top tips on our dedicated blog post. Within our 'guide to rock pooling in East Devon' we outline when to go, where to look & what you can expect to find. If you're lucky enough to find a pipefish, crab or starfish remember to return all creatures back to the area you found them.
Things to do on Ladram beach
Dogs are a man (& women's) best friend, many of us plan our holidays around them and dread the look on their faces when the holiday bags are being packed and they get left behind. To avoid disappointing your pooch Ladram Bay has put together a dog-walking guide. You'll be enjoying your holiday while your canine counterpart is lapping up the best smells, swimming opportunities and chasing the odd rabbit. In the interests of keeping the beach as clean and family friendly as possible, dogs aren't allowed to roam across the pebbles at Ladram. However dogs are free to enjoy all the delights of the local area, a bit like this guy did last summer his with his owner Danny James. Below we have put together 6 of our favourite dog friendly walks complete with an interactive map, so your dog will spend more time retrieving sticks and less in the boot of the car. Peak Hill Start: Ladram Bay – EX9 7BX End: Ladram Bay Distance: 5.1 miles / 8.3 km At Ladram some of the best dog walking routes are on our doorstep (literally). From Ladram take the Southwest Coast Path that leads (no dog pun intended) up Peak Hill and carry on along the footpath until you reach a lookout point , from here you'll have incredible views East to Dorset and West towards Exmouth and the Exe Estuary. If you needed some inspiration before tackling the hills ascents to come back, rest assured that Taste in Sidmouth provides some of the best Ice Creams we've ever tried. Info: If you're not a resident of Ladram you will need to pay £5 to use the car park. We would advise keeping dogs on leads when close to the cliff edge and in and around Sidmouth as it can get busy during the summer months. The River Otter Start: Otterton Mill, Budleigh Salterton – EX9 7HG End: Otterton Mill Distance: 4.4 miles / 7.1 km Just down the road from Ladram Bay, this dog walk will see you head south along the river to Budleigh beach. Along the way you're dog is likely to find plenty of friends, swimming spots and potentially beavers. On your return you can stop off at the Otterton Mill to refuel before a short trip back to Ladram. Info: Leads are advisable for the start / finish of the route. Woodbury Common Start: Woodbury Castle – see Google Maps End: Woodbury Castle Distance: 2.4 miles / 3.8 km Another short journey from Ladram Bay, Woodbury Common is owned by Devon Clinton Estates and the castle (our start point) sits 550ft above sea level, the views over the Jurassic Coast and Exe Estuary are stunningly beautiful. Your dog is less likely to be concerned about the history and they can rest assured no leads are required and the choices of routes are huge. Follow the footpath signs depending on the length of walk desired. Local knowledge: Before you go looking for a castle – it's a natural fortified position that dates back to the Iron Age, so not turrets or drawbridges. Info: Dogs, bikes and horses can roam free; all car parks in the area are free. Salcombe Hill Start: Salcombe Hill Car Park – EX10 0NY Finish: Salcombe Hill Car Park Length: 1.8 miles / 3 km From Ladram Bay look east beyond Peak Hill and beyond to the next big rise in the coastline, that's Salcombe Hill. Ambitious dogs (& owners) could walk from Ladram, but we suggest starting at Salcombe Hill car park. Cross the Alma Bridge and you'll soon be on the cliff path zigzagging your way up the hill. At the top of the hill you'll have fantastic views of Ladram Bay, while your pooch will be more than content with the shingle beach (dog friendly) along the route. Info: Car park is free, less well-trained dogs might require the leads if you venture near to the cliff edge and around the quiet roads at the start / finish areas. Exeter Canal Start: A379 just off Bridge Road – EX2 6LT Finish: (above) Distance: North Route: 4.9 miles / 8 km | South Route: 6.2 miles / 10 km This location gives you 2 potentially lovely walks, go downstream and after 3 miles you'll reach The Turf Locks (a dog friendly pub). Walk upstream and you'll arrive at Exeter historic quay where there are a great variety of places to grab a bite to eat overlooking the water. Both routes travel along a canal footpath, downstream has a separate cycle lane, upstream doesn't – with cyclists and fishermen scattered along the route its advisable to keep you dog on a lead unless they are very well trained. Info: The cark park is free however the A379 can be a busy road so have your lead ready when you open the boot. Hooken Cliffs Start: Anchor Inn, Beer – EX12 3ET Finish: Anchor Inn, Beer Length: 7.3 miles / 11.8 km Jump in the car and head 13 miles east towards Seaton. This circular route cuts through the picturesque villages of Beer and Branscombe, with impressive cliff-top views of the Jurassic Coast. Your dog will thank you once you reach East Beach (dog friendly) by going in the sea and then shaking dry in close proximity to you. Local knowledge: Branscombe beach allows dogs throughout the year however dogs are not allowed 150m east and west of the pole at the front of the café. Info: The car park is free and the route is steep in places. We would advise keeping your four legged friend on a lead when nearing the cliff edge.
6 East Devon Dog Walking Routes