Inspiration
First time in Devon or looking for extra adventure? Ladram Bay is at the heart of the East Devon coast and a perfect centre from which you can explore. Check out these articles for some inspired day trips and visits.
Our latest post highlights the benefits of Holiday Home Ownership in the UK. Obviously we're going to be (a little) biased for this one but for those of you who may never have considered Holiday Home Ownership it's a pretty compelling argument. 1. Having a hassle-free holiday Nobody likes being stuck in crowded or overpriced airports, putting up with cancelled flights or unsuitable accommodation. The small details such as overseas insurance, transfers or setting aside holiday money can soon add up to become more hassle in our busy lives. Luckily, if you have a Holiday Home in the UK, you won't have to put up with any of it. Once you've bought the home, that stress can all be a thing of the past. 2. Time in a great location There's nothing better than spending time in an area you love, exploring the culture, activities, food and attractions, going for long walks or even just pottering about. 3. Holidays on demand A Holiday Home is yours to use at any time when you so choose, and if you buy somewhere closer to home a last minute escape is always an option. 4. Your escape, your way When you have a Holiday Home of your own, there's no need to constantly bring all of your stuff back and forth each time you want to have a break and you can personalise your space to suit your tastes. Spend less time packing and more time relaxing. Everything is right where you left it. 5. Time with the family Buying a Holiday Home is an investment in your family, not just a financial investment. Giving your family fond memories of time spent with each other is priceless. 6. The dog can come with you If you have a Holiday Home in the UK it's easy to take the dog, so none of the family have to be left behind. We allow Owners to bring up to 2 dogs per visit. 7. De-stressing is good for you The perfect time to unwind and de-stress is while you're on a holiday, away from the problems of daily life. If you stay in the UK, you don't need to worry about aspects of local life and travel you're unfamiliar with, and potentially there's less to go wrong. Avoid stress and stay in the UK. 8 Have a tech-break It's hard to put phones down and turn the TV off at home, but when you arrive at your Holiday Home it can be your conscious choice to detox from technology, if you want it to be. 9. An investment opportunity If you're happy to sublet, you could consider the subletting scheme offered by Ladram Bay Holiday Park. The remuneration made from this scheme can certainly help pay toward your site fees and annual expenses.  10. Treat yourself Most of us occasionally also need a little space from time to time, to rest, recharge our batteries and return to our jobs and families healthy, happy and energised. Having you own escape in case you need a bit of peace and quiet can keep you in better shape both mentally and physically so it's not necessarily totally indulgent, it's common sense too. Considering Holiday Home Ownership at Ladram Bay Holiday Park? We've a sensational selection of Brand new and Pre-loved Holiday Homes waiting for your perusal. Simply pop into our Sales Showground or call our friendly team on 01395 568761 to book your park tour. We look forward to welcoming you to our fabulous 5-star park.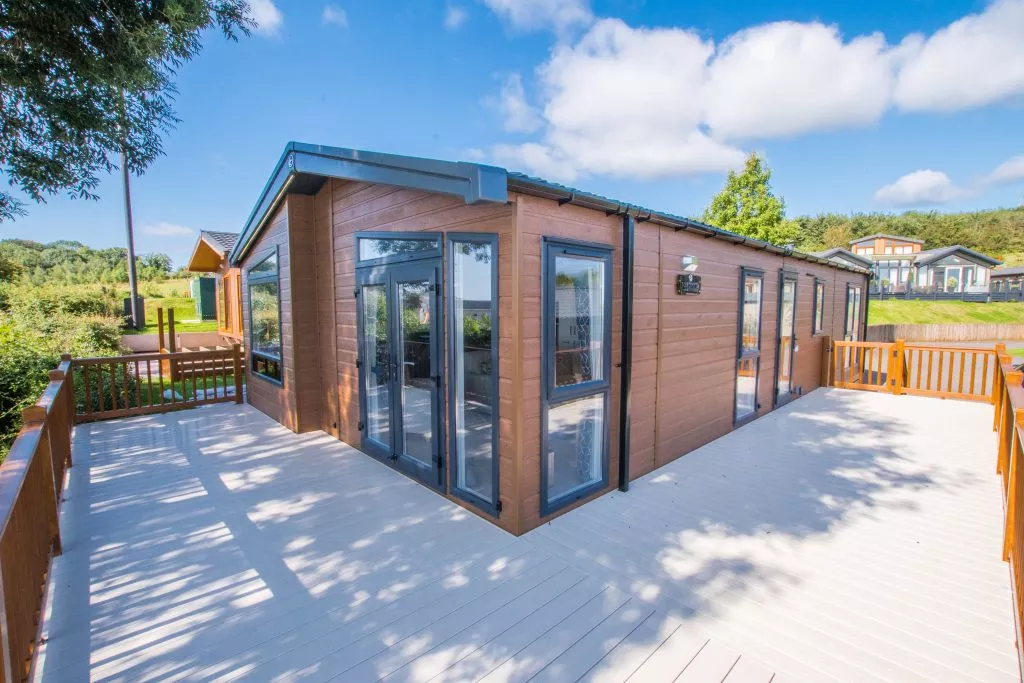 10 Reasons to buy a Holiday Home
On Wednesday 17th July 2019 Mascots from across Devon participated in the annual Adventure Golf championship. Prior to Shane Lowry's success at the Royal Portrush on Sunday, the golfing world's attention was focused Ladram Bay – it just wasn't picked up mainstream media. Many in the club house (also known as the swimming pool complex) were calling this the unofficial 5th major of the year & looking at the team lineups it was easy to see why. Our player guide certainly demonstrates the stiff competition Pickles, Ozzie & Captain Scratch were up against. With so many plots & sub-plots, a riveting narrative surrounded the 2019 event, held one one of Devon's most famous links course. Could Crealy's Blossom Bear emulate the form Buddy the Bear, which had seen him win in 2016 & 2017, or would Gilbert the Station Master become only the second entrant (after Buddy the Bear) to win back-to-back tournaments? Being super profession partiality was required on our behalf, but only the most partisan fan would begrudge 'Appy Angus a victory – having finished on the podium in 2016 (3nd) & 2nd in 2017 & 2018. The Winner: Pickles the Parrot Pickles the Parrot celebrates with the other 10 mascots overlooking Ladram Bay A tense opening round saw little to separate the leading group. The smart money had been on the players with big tournament experience, but as it transpired Pickles the Parrot held his nerve to clinch his first Mascot Golf Championship. In second place was Ella the Owl, who held off a late charge from Captain Scratch. The Ladram Bay mascots are ultimately thrilled with their performance, having beaten the previous best showing of 3rd in 2018 (tied with Pippa Pig from Pennywell Farm). Mascot Golf 2019: Image Gallery Player guide Pickles the Parrot greeting fans at the tee off. Pickles the Parrot Representing: Ladram Bay Previous form guide: Group stage exit 2016 2019 Result: 1st Consistent short game form Ella the Owl Ella the Owl Representing: Hospiscare Previous form guide: New entrant for 2019 2019 Result: 2nd Captain Scratch in the zone Captain Scratch Representing: Ladram Bay Previous form guide: Group stage exit 2018 2019 Result: 3rd Ozzie looks to build on his 3rd in 2018 Ozzie the Otter Representing: Ladram Bay Previous form guide: 3rd in 2018 (tied with Pippa Pig) 2019 Result: Group stage exit Grecian the Lion silencing an Argyle fan Grecian the Lion Representing: Exeter City Football Club Previous form guide: Group stage exit 2017 2019 Result: Group stage exit Buddy the Bear celebrates with the fans Blossom Bear Representing: Crealy Previous form guide: New entrant for 2019. 2019 Result: Group stage exit 'Appy Angus offering advice on the 5th 'Appy Angus Representing: World of Country Life Previous form guide: 2nd in 2018, 2nd in 2017 & 3rd 2016 2019 Result: Group stage exit 2018 winner Gilbert the Station Master Gilbert the Station Master Representing: Seaton Tramway Previous form guide: 1st in 2018 2019 Result: Group stage exit The Dragon gets fired up at the 3rd hole The Dragon Representing: Pete's Dragon Previous form guide: Group stage exit 2018 2019 Result: Group stage exit Ambrose the Bear putting in it Ambrose the Bear Representing: Devon Air Ambulance Previous form guide: Group stage exit 2016 2019 Result: Group stage exit Ledley tee's off with a putter Ledley Representing: LED Leisure Previous form guide: Group stage exit 2016 2019 Result: Group stage exit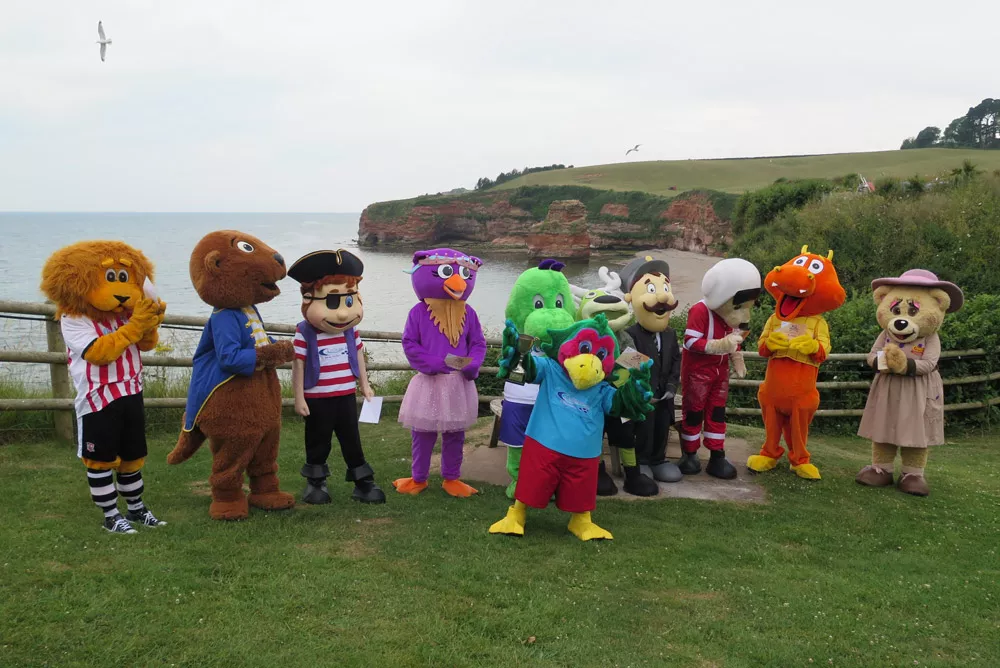 Mascots Golf Championship 2019
In recent years we've made several new additions to our beach facilities aimed at pleasing kids & big kids alike. So if you're new to Ladram Bay or haven't visited in several years, the following post covers things to do whilst on the beach, allowing you to make the most of your family getaway. You've just arrived at Ladram Bay, checked-in, ticked off the essentials shopping list & got your uniform inflatable primed. Firstly take a minute to appreciate your amazing parenting skills & then think about your next port of call, the beach. Use the bullet points (below) to navigate directly to a particular beach based activity. Should it take your fancy, simply click on it to skip to that section. Paddle board hire Kayak hire Motor boat hire Freshly caught seafood Rockpooling at Ladram Paddle board hire… The relatively calm waters of the bay make Ladram an excellent place to try your hand (& balancing skills) at paddle boarding in East Devon. This activity is suitable for competent swimmers only. Cost: Paddle boards can be hired directly on the beach & cost £15 for an hour. Kayaking hire… Our stunning stretch of Jurassic Coast is best appreciated from sea & we can think of few better (or more gratifying) ways to take in the scenery than paddling out on a kayak. Cost: Single person kayaks can be hired on the beach & cost £12.50 per hour. Double kayaks cost £18 per hour. Motor boat hire… Whether your feeling like a lucky fisherman or want to take the children on a maritime adventure, Ladram Bay have motor boats for hire throughout the season. Please note boat hire is weather dependent. Cost: Motor boats can be hired from the beach & cost £35 for 1 hour, £60 for 2 hours and £90 for 4 hours. Freshly caught seafood… Ladram Bay have several (very) seasoned fishermen & being situated by the ocean means we can offer some seriously fresh seafood for guests to cook up. If you are staying with us please ask a member of staff on the beach for quantities & availability – our fishermen might be good but they can't predict what will be caught! Rock pooling at Ladram Ladram Bay provides the perfect rock pooling environment to bring out the zoologist in each of us & is best experienced when the weather is calm & dry as the rock pools will be still and therefore easier to spot creatures. As rock pooling is one of our favourite things to do at Ladram check out our top tips on our dedicated blog post. Within our 'guide to rock pooling in East Devon' we outline when to go, where to look & what you can expect to find. If you're lucky enough to find a pipefish, crab or starfish remember to return all creatures back to the area you found them.
Things to do on Ladram beach
Dogs are a man (& women's) best friend, many of us plan our holidays around them and dread the look on their faces when the holiday bags are being packed and they get left behind. To avoid disappointing your pooch Ladram Bay has put together a dog-walking guide. You'll be enjoying your holiday while your canine counterpart is lapping up the best smells, swimming opportunities and chasing the odd rabbit. In the interests of keeping the beach as clean and family friendly as possible, dogs aren't allowed to roam across the pebbles at Ladram. However dogs are free to enjoy all the delights of the local area, a bit like this guy did last summer his with his owner Danny James. Below we have put together 6 of our favourite dog friendly walks complete with an interactive map, so your dog will spend more time retrieving sticks and less in the boot of the car. Peak Hill Start: Ladram Bay – EX9 7BX End: Ladram Bay Distance: 5.1 miles / 8.3 km At Ladram some of the best dog walking routes are on our doorstep (literally). From Ladram take the Southwest Coast Path that leads (no dog pun intended) up Peak Hill and carry on along the footpath until you reach a lookout point , from here you'll have incredible views East to Dorset and West towards Exmouth and the Exe Estuary. If you needed some inspiration before tackling the hills ascents to come back, rest assured that Taste in Sidmouth provides some of the best Ice Creams we've ever tried. Info: If you're not a resident of Ladram you will need to pay £5 to use the car park. We would advise keeping dogs on leads when close to the cliff edge and in and around Sidmouth as it can get busy during the summer months. The River Otter Start: Otterton Mill, Budleigh Salterton – EX9 7HG End: Otterton Mill Distance: 4.4 miles / 7.1 km Just down the road from Ladram Bay, this dog walk will see you head south along the river to Budleigh beach. Along the way you're dog is likely to find plenty of friends, swimming spots and potentially beavers. On your return you can stop off at the Otterton Mill to refuel before a short trip back to Ladram. Info: Leads are advisable for the start / finish of the route. Woodbury Common Start: Woodbury Castle – see Google Maps End: Woodbury Castle Distance: 2.4 miles / 3.8 km Another short journey from Ladram Bay, Woodbury Common is owned by Devon Clinton Estates and the castle (our start point) sits 550ft above sea level, the views over the Jurassic Coast and Exe Estuary are stunningly beautiful. Your dog is less likely to be concerned about the history and they can rest assured no leads are required and the choices of routes are huge. Follow the footpath signs depending on the length of walk desired. Local knowledge: Before you go looking for a castle – it's a natural fortified position that dates back to the Iron Age, so not turrets or drawbridges. Info: Dogs, bikes and horses can roam free; all car parks in the area are free. Salcombe Hill Start: Salcombe Hill Car Park – EX10 0NY Finish: Salcombe Hill Car Park Length: 1.8 miles / 3 km From Ladram Bay look east beyond Peak Hill and beyond to the next big rise in the coastline, that's Salcombe Hill. Ambitious dogs (& owners) could walk from Ladram, but we suggest starting at Salcombe Hill car park. Cross the Alma Bridge and you'll soon be on the cliff path zigzagging your way up the hill. At the top of the hill you'll have fantastic views of Ladram Bay, while your pooch will be more than content with the shingle beach (dog friendly) along the route. Info: Car park is free, less well-trained dogs might require the leads if you venture near to the cliff edge and around the quiet roads at the start / finish areas. Exeter Canal Start: A379 just off Bridge Road – EX2 6LT Finish: (above) Distance: North Route: 4.9 miles / 8 km | South Route: 6.2 miles / 10 km This location gives you 2 potentially lovely walks, go downstream and after 3 miles you'll reach The Turf Locks (a dog friendly pub). Walk upstream and you'll arrive at Exeter historic quay where there are a great variety of places to grab a bite to eat overlooking the water. Both routes travel along a canal footpath, downstream has a separate cycle lane, upstream doesn't – with cyclists and fishermen scattered along the route its advisable to keep you dog on a lead unless they are very well trained. Info: The cark park is free however the A379 can be a busy road so have your lead ready when you open the boot. Hooken Cliffs Start: Anchor Inn, Beer – EX12 3ET Finish: Anchor Inn, Beer Length: 7.3 miles / 11.8 km Jump in the car and head 13 miles east towards Seaton. This circular route cuts through the picturesque villages of Beer and Branscombe, with impressive cliff-top views of the Jurassic Coast. Your dog will thank you once you reach East Beach (dog friendly) by going in the sea and then shaking dry in close proximity to you. Local knowledge: Branscombe beach allows dogs throughout the year however dogs are not allowed 150m east and west of the pole at the front of the café. Info: The car park is free and the route is steep in places. We would advise keeping your four legged friend on a lead when nearing the cliff edge.
6 East Devon Dog Walking Routes
Our latest post helps you plan dog walks around your 4 legged friends key requirements, open spaces, water and other dogs. The routes provided below have been kept relatively local to Ladram Bay (30 mins or less), with Haldon Forest being the furthest and Ladram the closest. We have also enlisted the help of Zelda (pictured right) who kindly modelled for this blog post. To meet advertising standards we must disclose she was paid in treats and sampled the Exmouth Esplanade route – giving it a resounding 5/5 rating. Below we have put together 5 of our favourite dog friendly walks complete with an interactive map. All walks recommended in this post are dog friendly all year around – that way you can spend more walking and less time working out where to walk. Peak Hill Lookout Point – Ladram Bay Start / End: Ladram Bay – EX9 7BX Distance: 2.5 miles / 4 km Pin: Blue Our first route is a convenient one starting at Ladram Bay and following the Southwest Coastal Path east. The seemingly short 2.5 miles route is packed with steep climbs on the ascent of Peak Hill, while the final lookout point provides panoramic views East to Dorset and West towards Exmouth and the Exe Estuary. Having conquered Peak Hill you may have worked up an appetite and our  Beach Shack is the perfect refuelling point. There you and your 4 legged friend will be able to enjoy the outside decking area, with refreshments in the sunshine overlooking the bay. In the interests of keeping the beach as clean and family friendly as possible, dogs aren't allowed to roam across the pebbles at Ladram. Info: We would recommend that dogs remain on their leads when close to the cliff edge. Roundball Wood – Honiton Start / End: Roundball Lane – EX14 2BJ Distance: 1.1 miles / 1.86 km Pin: Green Roundball Wood is 150 to 175 metres above sea level, the land to its south rising steeply to 207 metres at the summit of Roundball Hill. To the north the River Otter flows from east to west through its sheltered valley on its way from its source at Otterhead in the Blackdown Hills near Churchinford to the sea at Budleigh Salterton. Starting at Roundball Lane head up the path sign posted Roundball Wood, from there you will enter the woods and see an interpretation board outlining the circular path – whether you go clockwise or anticlockwise is up to you. Info: The area is perfect for letting your dog run free and the wildlife packed woodland will allow your pooch to follow some scents. Walkers are advised to keep to the walkways as not to potentially disturb badger sets which are often hidden by grass. Shelly Beach & The Esplanade – Exmouth Start: Otterton Mill, Budleigh Salterton – EX8 1BQ Distance: 0.8 miles / 1.3 km Pin: Purple A short trip to Exmouth brings you to two areas of beach that are dog friendly all year around. The first is Shelly Beach, located on the west side of the marina, at high tide the beach offers less of a walking route – not that your dog will mind. At low tide it is possible to access a far larger area of beach. If you're looking for more of a dog walk then the Esplanade starts at the slipway by seafood restaurant Rockfish with the year round dog friendly area ending at the Octagon Kiosk. We have marked this out on our map, however the area is clearly signposted. Info: Leads are advisable around the Marina and Esplanade. Be sure to check tide times as this will increase / decrease the usable beach areas. Butterfly Trail: Haldon Forest Park – Exeter Start / End: Haldon Forest Car Park – EX6 7XR Distance: 3 miles / 4.8 km Pin: Yellow Arriving at Haldon Forest you will find 5 different routes all clearly sign posted. Our recommended path (the Butterfly Trail) is moderate in difficulty and requires you to follow the yellow signs. The start of the trail snakes through the forest on a wide trail, before emerging into an opening over the Exe Estuary, Exeter and the Belvedere Tower. The trail then leads you back into the forest, here you will find a natural tunnel of rhododendron growing. After a long descent you will end up in the butterfly area which the Forestry Commission staff, in conjunction with Butterfly Conservation, monitors and manages the area to provide ideal conditions for the many butterfly species recorded here. From here you begin the climb back up the hill towards the car park. It is  fairly steep so make use of the bench half way up, to rest and enjoy the view over the Teign Valley. Local knowledge: Over 30 species of butterfly have been recorded within this small area. Info: You will be sharing the route with mountain bikes, walkers and dog owners. Butterfly Walk: Ashclyst Forest – Broadclyst Start / End: Forest Gate car park – EX5 3DT Length: 4.1 miles / 6.6 km Pin: Red Part of the Killerton estate and one of the largest woods in East Devon, with waymarked trails for exploring. A haven for butterflies, bluebells, birds & dogs. Info: Car park is free & well behaved dogs and owners always welcome. If it has rained recently we would suggest walking boots or wellies as the field and woodland paths sit on heavy clay.
The Best Devon Dog Walks
In Devon we're so fortunate to have miles of coastline, rivers feeding into the sea & breathtaking landscapes galore. In this guide we'll show the best places to focus your lenses on. All image locations featured within this post are listed in the map below. Whether you have all the kit, are an amateur just getting started or just like to use your phone– there's something for everyone to photograph in East Devon. East Devon is characterised by its long stretch of coastline spanning East from Exmouth to Lyme Regis on the Dorset border – and what better way to start than with Ladram Bay. Ladram Bay If you're staying with us then the first place on your agenda should be our beautiful pebble beach. Those with GoPro (or other waterproof cameras) will be able to go that one step further. A post shared by Ladram Bay (@ladrambay) on Jan 5, 2018 at 6:37am PST Because Ladram Bay is a private beach it offers a tranquil location for photographers. Those with the right patience (& timing) have captured some incredible beach images. Night time at #ladrambay thanks to RGW Photography A post shared by Ladram Bay (@ladrambay) on Apr 7, 2017 at 2:00am PDT Budleigh Salterton Several miles west along the Coast you will find the picturesque town of Budleigh Salterton. There are several photography spots frequented by photographers, including the pastel colour beach huts that line the pebbled shore. A post shared by Budleigh Photography (@budleighphotography) on Jan 6, 2016 at 11:01am PST Orcombe Point Another area of spectacular coastline can be found at Orcombe Point, which lies 2 miles southeast of Exmouth town centre. For those wishing to pay a visit we recommend using the South West Coastal Path & packing sturdy footwear – the path is classified as moderate in difficulty. A post shared by Katrina Cawsey (@katrinacawsey) on Oct 29, 2017 at 11:11am PDT Woodbury Common If sweeping green landscapes are the focus of your attention then we suggest heading to Woodbury Common. A natural heath and woodland, the common is a great location for dog walking or snapping Devon's flora & fauna. You may even spot a bird of prey! Our favorite spot is the Fort-South lookout point just opposite Woodbury Castle. A post shared by Laura JW (@laurajayne.w.photography) on Nov 17, 2017 at 8:42am PST The River Exe Cafe For the hungry photographer, the River Exe Cafe is a restaurant that sits in the middle of the Exe estuary providing you with 360° views of water, wildlife & coastline – the best of all worlds. A post shared by Little Thatch Cottage, Devon (@littlethatch1) on Aug 6, 2017 at 9:54am PDT
Best Photography spots in East Devon
To date our route guides have covered cycling routes and dog walking routes. In the following guide we've put together a collection of circular walking routes through some picturesque scenery. Many of the routes intersect with some of Devon's many public footpaths, giving you the flexibility whilst rambling. With Devon being home to some 3,200 miles of footpaths, bridleways and byways, travelling off the beaten track is far easier than you might think – just keep an eye out for the signs. We've tried to select walking routes with all ages and abilities in mind and have graded our routes based on their difficulty. The routes start / end point is marked linked to within a given routes 'coordinates'. Difficulty Rating: Short Stroll: Mid-Length Jaunt: Steeper Climbs: Woodbury Common circular route Park up at Woodbury Castle and follows the road down to Woodbury village, there is also a track alternative which also starts by the car park too. We've marked the Maltsters Arms as a half way stop off point. Ramblers can expect excellent views of the Exe Estuary from the start / end point from the car park (pictured below). Route: 4.2 miles Estimated time: 2hrs 30mins Coordinates: 50.67655, -3.37074 (Google Maps) Difficulty:  Colaton Raleigh Common circular route A circular heathland walk, ramblers can park up slightly east of Woodbury Castle (an Iron Age hill fort) and walk through the former Neolithic landscape, with open views to the Jurassic Coast on a clear day. England isn't home to savannahs – but this comes close. Route: 5.8 miles Estimated time: 2hrs 45mins Coordinates: 50.67655, -3.37074 (Google Maps) Difficulty:  Newton Poppleford & River Otter Circular A lovely walk through orchards, hamlets and along the River Otter to the Old Mill at Tipton St John. Wind your way back along the river and perhaps stop in at the Golden Lion pub (marked on the interactive map). Route: 10 miles Estimated time: 4hrs mins Coordinates: 50.71836, -3.28857 (Google Maps) Difficulty:  Fire Beacon Hill circular route This walk has many fine views both of Sidbury and towards the sea at Sidmouth. There are two steep hills, one ascent and one descent, but the route is not beyond the capabilities of an average walker. The Bowd Inn makes the perfect pre/post stop off point. Route: 6.8 miles Estimated time: 3hrs 15mins Coordinates: 50.70262, -3.26529 (Google Maps) Difficulty: 
East Devon Circular Walking Routes
Regular visitors to Ladram Bay will undoubtedly know about the Jurassic Coast and the South West Coastal Path that runs 95 miles through East Devon and Dorset. Our latest post takes sections of this UNESCO natural World Heritage Site and breaks it down into more manageable family friendly lengths and includes paths well trodden by most of the Ladram Bay team. We've tried to pick routes with all ages and abilities in mind and have graded our routes based on their difficulty. Difficulty Rating: Short Stroll: Mid-Length Jaunt: Steeper Climbs: Ladram Bay circular walking route This walk takes in the village of Otterton with it's quaint traditional thatched Devon cottages, stunning scenery along the river banks and the beautiful Jurassic Coastline. Route: 8km / 5 miles Estimated time: 1.5 hrs – 2hrs Coordinates: EX9 7BX – OS Ref: SY 096850 Difficulty:  Route Details: 1) Turn left the main entrance to Ladram Bay Holiday Park and take the lane down the hill into the village of Otterton. 2) Continue along Fore Street to cross the river, turn left onto the footpath alongside the river and follow it downstream, passing the Clamour Bridge. 3) Reaching the aqueduct as a path joins from the right, carry on ahead for a few yards and then take the next path to the right, which curves around to the left. Ignore the next path heading to the right, to carry on ahead parallel to the river, passing a road bridge topped with a small windmill on your right and continuing ahead to go through the gate onto the western side of South Farm Road. 4) Cross the road and carry on along the path ahead , which will bring you back to the Lime Kiln car park. 5) From the Lime Kiln car park in Budleigh Salterton pick up the South West Coast Path as it head inland beside the river, following the tarmac path to South Farm Road. 6) From South Farm Road turn right to cross the river, and then turn left onto the lane which continues inland alongside the other bank of the river, travelling through trees. 7) Carry on past the pillars and Clamour Bridge, to follow the path alongside the river, continuing ahead along the tarmac surface of Park Lane. 8) At the T-junction turn left, bearing left shortly afterwards onto Churchill Hill, following the road to the right around the churchyard and then the Church. Take the main road up through Otterton and back to the Holiday Park. Alternative  Walk: You can extend this walk by leaving Ladram Bay and heading west along the Coast Path following the blue dotted route (see map above) and joining up with the red route at point 6 on the map. Here you can either turn left and take longer walk back via the Lime Kiln car park and the aqueduct, or turn right to take the shorter route back via Clamour Bridge. Both routes take you back through the pretty village of Otterton. Otterton and Mutter's Moor Walk For the more experienced walker, the Otterton and Mutter's Moor walk is the perfect route to take if you intend to spend most of the day out and about. You'll hike through beautiful woods and moorland and view the landscape which is crisscrossed with ancient pathways. Route: 11.3km / 7 miles Estimated time: 2.5hrs – 3hrs Coordinates: EX10 0NW Difficulty:  Route Details: 1) Take the Coast Path, west from Ladram Bay Holiday Park and cross the field, staying above the sea as the path pulls out around Smallstones Point. 2) Turn right on the permissive path on the far side of the second field, and follow it inland, going straight ahead onto the lane when you arrive at the buildings on your right, to where it comes out on the road by Stantyway Farm. 3)  Ignoring Piscombe Lane, on your right just before you reach Stantyway Farm, turn right onto the road a few yards further on, Stantyway Lane, and follow it in a roughly north -westerly direction into Otterton. 4) At the next junction, when Bell Street turns into Fore Street, turn right and walk up Ottery Street for about a mile, ignoring Chockenhole Lane, on your right a little way up. 5) At Pinn Lane Corner fork left and continue along the road past Burnthouse Farm until you come to Pavers and Passaford. 6) Turn right onto the footpath just beyond Passaford and follow it steeply uphill and into the woods. 7) In the woods turn left onto the track, and then sharp right, to reach the track on the open ground at the top. Turn left here and follow the track to the far end of Mutter's Moor. 8) Ignoring the path which doubles back to your right, take the track to the right which drops downhill along the edge of the forest, turning right again about 150 yards later to pull back uphill along the far edge of Mutter's Moor. 9) Stay on this track as it runs along the edge of the moor, beside the forest, all the way back to the car park. 10) From the car park cross the road and go through the gate and onto the area of open grassland, heading towards the sea. When you meet the Coast Path, turn right and drop downhill with it to Windgate. 11) The path starts to rise again towards High Peak, and goes into woodland. Ignore the track which bears away to the right, instead staying on the South West Coast Path as it makes its way through the woods. Dropping downhill, it comes out of the trees and heads towards the holiday park. Bystock Wild Walk Explore the Devon Wildlife Trust Bystock Pools Nature Reserve and East Budleigh village by lacing up your walking boots and embarking on this trail. With plenty of wildlife to look out for such as the Emperor dragonfly, common pipistrelle bat and Grayling butterfly, this is the perfect walk for nature lovers. You will even get the opportunity to pass Hayes Barton, the birthplace of Sir Walter Raleigh. Route: 9.5km / 6 miles Estimated time: 2hrs – 2.5hrs Coordinates: EX8 5EE Difficulty:  Route Details: 1) Go through the gate at the corner of Bystock nature reserve north entrance car park and downhill across the field to a wooden gate at the bottom. Take a narrow path on the right and turn right in front of a large beech tree, then left onto a boardwalk. At the end of this loop turn left uphill. About 400 yards later at a path junction go left and very shortly afterwards descend towards the ponds. Follow the boardwalk past a pond to the end and then go straight onto a path. At a T-junction turn right over a bridge and through a gate, and eventually you arrive at a large pool. Go past a bench and continue round the boardwalk as it bends right and along the end of the pool to a lane. This marks the reserve boundary. 2) Turn left along the lane and right at the top of a rise onto a footpath. Follow the yellow waymarkers down the right-hand edge of a clearing, then past Squabmoor reservoir, keeping the reservoir on the right. At the dam follow the waymarkers down a field edge into a wood. Continue straight on, eventually passing a metal field gate where you continue straight on until you bear right onto a track and left onto a lane at Dalditch Farm. Go straight on along the lane to Brookside Cottage where you take a track on the left and approximately 300 yards later turn left onto another track. 3) After 300 yards bear right by a yellow waymarker onto a path. Take the left path at a fork, which goes uphill along the edge of a wood. At the top of a rise ignore a small path on the right and continue straight on along a grassy path into a clearing. Cross a couple of forest tracks to a yellow waymarker then continue five yards and turn left to a stile. Cross this and follow the field boundary, ignoring a metal gate. At the bottom of the field go through two gates and over a stile. Follow a yellow waymarker straight on, down a track and over a stile. Cross a second stile onto a track and turn left. 4) At the lane turn right past the free car park (alternative start point for the walk) into the village of East Budleigh. After your visit to the village, opposite the Sir Walter Raleigh pub retrace your steps up Hayes Lane, past the free car park. 5) Continue about 1 mile (1.6km) until you pass Hayes Barton. Walk another 0.5 miles (0.8km) to a T-junction where you go left. At the next road junction take a path on the right and turn left after 10 yards to join a path parallel to the road you just left. At the fork in the path go left, leaving some quarry workings on the right. 100m after this junction turn left up a path to rejoin the road, where you turn right back to the Bystock nature reserve car park. West Down Beacon Walk This walk travels along the route of the old railway line, taking you along the coast where there is the opportunity to see stunning ocean views. There is also an array of wildlife just waiting to be discovered including bats and lizards. Route: 6km / 3.7 miles Estimated time: 1 hrs – 1.5 hrs Coordinates: EX9 6RJ Difficulty:  Route Details: 1) From Budleigh Salterton's Public Hall, walk northwards up Station Road, carrying on along Moor Lane to come out at the top of Dark Lane, by the school. Turn right onto Dark Lane, and then almost immediately left, to carry on in the original direction up Bedlands Lane. 2) From the top of Bedlands Lane, turn lift onto the B3178 and then right a moment later to walk up Rear Lane. 3) At the railway bridge pick up the cycle path on your left, leading towards Exmouth, and follow it through the woods to Castle Lane. 4) Turn left up onto the path to Castle Lane, turning onto the lane at the top to head roughly southwards. 5) When Castle Lane turns sharply right, take the footpath ahead which continues in your direction, and follow this alongside the Golf Club for about 1 mile, ignoring the Littleham Church path which crosses yours, also ignoring the detours to the left shortly afterwards. 6) Turn left when you come to the South West Coast Path, and follow it for about three quarters of a mile towards Budleigh Salterton. 7) From West Down Beacon the Coast Path descends gently into Budleigh Salterton. Carry on along it, past the first few houses, until you come to an open green area. At the far end of the field turn left, to walk up Victoria Place and onto the B3178 road beyond. 8) Turn right here, and then take the next left, into Station Road, to return to the start of the walk. Looking for more walking routes in East Devon? Take a look at our Coastal Walks in East Devon.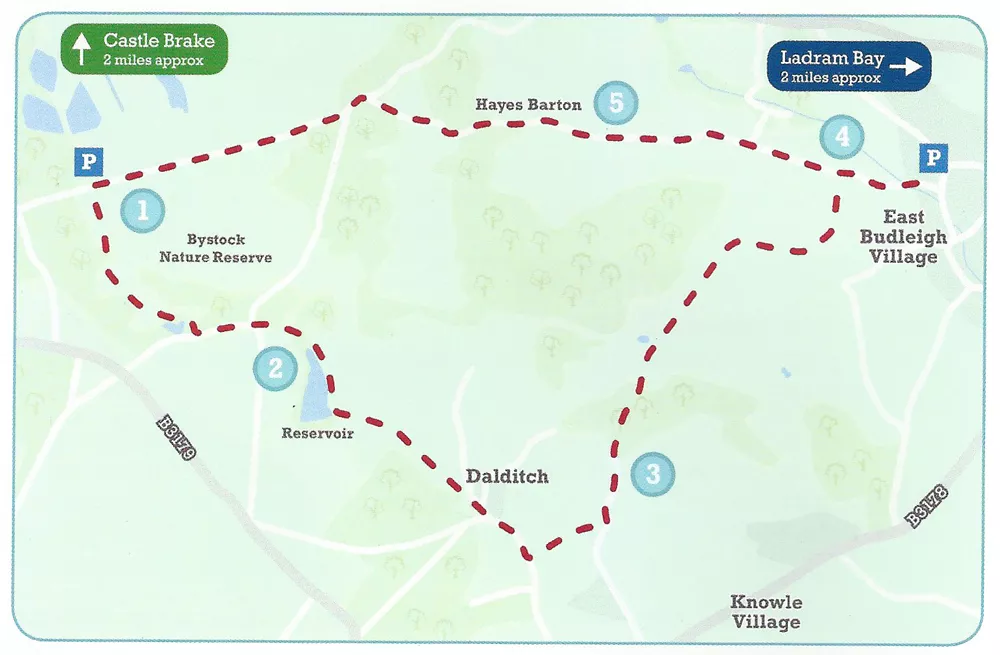 Jurassic Coast Walking Guide
Ladram Bay is the perfect location to discover the Jurassic Coast World Heritage Site. With 95 miles of coastline from East Devon to Dorset, there is plenty to see & do whether you're an amateur fossil hunter or a prehistoric pro! Our latest post looks at 3 of our favourite spots along this historic & beautiful coastline. Jurassic Coast Map: Lyme Regis: Thanks to the local blue lias clay found on the cliffs & beach, fossil remains of creatures from the prehistoric seas of 180 million years ago are regularly exposed making Lyme Regis a unique place for fossil hunting. Situated where Devon meets Dorset, Lyme Regis was home to keen fossiler Mary Anning whose home later became the location for the Lyme Regis Museum. The town is renown for it's fossil collection, as well as the fossil walks & talks led by the museum experts. The museum is an excellent day trip and free for children to visit! Generations of children have patrolled this part of the Jurassic Coast hoping to find an ammonite of their own. If fossil hunting isn't for you, there is always a nice spot for fish & chips or an ice cream on the Cobb. Budleigh Salterton: Just around the headland of Ladram Bay is Budleigh Salterton. A unique sea-side town famed for its unusual pink pebbles derived from the cliffs having once been carried by a river nearly 250 million years ago, before being deposited and buried. Made of a very hard rock known as quartzite, Budleigh's pebbles have been studied by scientists to understand the formation of beaches as it is a rare example of having had limited interference by humans. Be sure to visit local attraction The Fairlynch Museum to view their radioactive pebbles and much more local history. Sidmouth: A peaceful seaside town, Sidmouth is home to Triassic rocks that are over 230 million years old. These rocks yield particularly rare fossils of desert creatures that show how life was still recovering after a mass extinction that occurred 20 million years earlier. Only a fifteen-minute drive from Ladram Bay, the Sidmouth museum tells the story of the Jurassic Coast with particular emphasis on the rare reptile & amphibian fossils mentioned above.
A guide to the Jurassic Coast
Devon is blessed with a natural abundance of wildlife, which is testament to its varying scenery and climates. The high moorlands of Dartmoor and Exmoor are prone to cloud snaps while the milder coastal grasslands rarely freeze over. Devon's sea life is equally as diverse with the coastlines of the choppy Atlantic to the north and the calmer English Channel to the south All in all there are plenty of animal attractions in Devon, however on a sunny day with the kids in tow the chances of spotting a Buzzard or Bullfinch from a coop are slim. To help you fulfill your families animal fixation we've put together a list of some of our favourite animal attractions in Devon. Paignton Zoo Pin Colour: Green Address: Totnes Rd, Paignton, Devon TQ4 7EU (33.8 miles) Paignton Zoo opened in 1923 and was one of the first combined zoolog ical and botanical gardens in Britain. The zoo is home to over 2,000 creatures from 300 species and acts as a breeding and conservation center for endangered animals and plants. The park has 6 animal habitats that include tropics, savannah, desert, forest and wetlands and houses animals that include Cuban Crocodiles, Hamadryas Baboons (pictured), Lions and Cheetah. If you find yourself captivated by the wildlife you can even sponsor individual animals, the proceeds of which to go towards its veterinary care and food – Paignton Zoo's weekly shopping list includes 800 lettuces! Crealy Family Theme Park Pin Colour: Red Location: Sidmouth Rd, Exeter, Devon EX5 1DR (9.8 miles) When Crealy first opened in 1989 it aimed to recreate a country childhood and has since expanded to include over 60 rides, however the animal park remains a key attraction. Animal lovers can pet guinea pigs, feed goats and visit the Meerkat Manor. Our personal favourites are the small Marmoset Monkeys (pictured) which live within the animal kingdom, be sure to pay them a visit . Crealy is set in 100 acres of glorious Devon countryside and is only a 20-minute drive from Ladram Bay. For more information about the animal kingdom please visit Crealy's website. The Donkey Sanctuary Pin Colour: Brown Location: Slade House Farm, Sidmouth, Devon EX10 0NU (8.6 miles) The Donkey Sanctuary is the legacy of Dr Elizabeth Svenden MBE and since it's founding in 1969 has provided care for donkeys and mules that now spans across the world. The site in Sidmouth is set within a beautiful country house with 8 acres of grounds however guests are asked not to feed the animals as they fall into bad habits and expect food from everyone. Admission is free (with donations welcome) and the site is dog and bike friendly making it an ideal animal attraction for families. The Big Sheep Pin Colour: Yellow Location: Abbotsham, Bideford, Devon EX39 5AP, United Kingdom (70 miles) If you are looking for a day out in Devon the Big Sheep will excite all members of the family with animal entertainment which includes live sheep shows. The shows introduce various breeds of sheep from around the world and include sheep shearing and duck trials. Children (and parents) are welcome to participate by helping the showman and his dog round up the ducks and guide them through the gate. To brush up on your Sheepdog terminology visit the link – Come-Bye! We would highly recommend watching the summer season daily sheep racing which see's 6 sheep and jockeys compete over a 250 yard course overcoming obstacles that include Shepherd's Brook, Bo-Peep's Bend and the infamous Ewe Turn in the quest for victory. Exmoor Zoo Pin Colour: Purple Location: Barnstaple, Bratton Fleming EX31 4SG (60 miles) Exmoor Zoo originally opened as a bird farm but over the past 30+ years has grown in size and shifted its focus to larger animals that now include over 200 species of animals, birds and reptiles. In May 2015 puma triplets were born at Exmoor Zoo, be sure not to miss them while they are still cubs. For information about ticket prices please visit the Exmoor Zoo website.
5 Attractions in Devon for animal lovers
One of the things that makes Devon such a great place to go on holiday is the county's diverse landscape. At Ladram Bay we're big on beaches but if you're after a change of scenery, there is nothing quite as unique as Dartmoor National Park. The UK is home to 10% – 15% of the world's moors and here in the Southwest we're lucky enough to have three of them; Exmoor, Bodmin Moor and the focus of this post, the stunning Dartmoor. Dartmoor in south Devon covers 368 square miles and is protected by National Park status as Dartmoor National Park. It's home to the highest point in Southern England – High Willhays (see map: yellow pin) which at 2,037ft above sea level provides a dramatic backdrop. With this adventurous, beautiful and wild area on our doorstep, we thought we'd put together some of the best activities Dartmoor has to offer, including walking, animals and of course food. Walking on Dartmoor Dartmoor has a range of walks for all abilities, we've added 3 of our favourite routes into an interactive map so you don't stray too far off the beaten track. Fernworthy Reservoir Pin Colour: Green If you aren't looking for anything too strenuous, a relaxing 2.7 miles (4.36 km) route, is Fernworthy Reservoir. The route is largely flat with a few steps, gates & stiles. There is a great picnic spot with benches overlooking the water and also has bird hides and brown trout fishing nearby. The nearby village of Chagford has some lovely pubs, the pick of the bunch being The Three Crowns.  Short Stroll:  Ilslington Trail Pin Colour: Blue For a longer walk, the Islington Trail is a moderate 4.3 mile (6.89 km) circular walk that takes you through south-east Dartmoor. It's starts & ends at the Carpenters Arms which means you can reward yourself afterwards with one of their fine locally-sourced pub lunches! Mid-Length Ramble:  Teign & Turrets Trail Pin Colour: Orange If you're after something more challenging and to experience undulating countryside the Teign & Turrets Trail starting at Chagford square is for you. A good four hours & 5.8 miles long (9.44 km), this walk follows the Teign, one of Dartmoor's most iconic river and is packed with inclines, fun descents and breath-taking views. Longer Jaunt:  Guided Tours of Dartmoor A full day trip, Dartmoor Safari covers all the best bits of Dartmoor with a guided tour. You will be shown the sites that inspired Arthur Conan Doyle to write 'The Hound of the Baskervilles', be led through an exploration of the rugged landscape & historic villages and even introduced to the beautiful Dartmoor ponies. A good mix of walking & a private car to take you to the next spot, this is a very convenient way of seeing all that Dartmoor has to offer. Animals on Dartmoor While you may be lucky to spot a Dartmoor pony on a walk, there is nothing as good as seeing ponies first hand at the Miniature Pony Centre. As well as ponies, there is a range of animals to see and care for, as well as gardens, walks and a good spot for cream tea! Pin Colour: Brown The locations we've picked are just a few of our favourites. Dartmoor has lots to offer but go with a plan – its a big area and quite remote in parts so the last thing we want is for you to get lost. A member of the Ladram Bay Reception team are always available to offer advice and point you in the right direction.
From shore to moor: a guide to Dartmoor
There are so many reasons why people flock down to Devon on holiday each year, from surfing, coastline footpaths to moorland walks. Having experienced the best of what Devon has to offer, you're likely to be slightly jaded and require something to recharge your family's batteries, which is why we've put together a guide of another of Devon's great attractions, its farmers markets. With so much of our food coming from supermarkets modern society can often feel detached from our culinary heritage and customs. Farmers markets provide a great platform for food artisans to showcase some really tasty stuff. They are also a great way for holidaymakers to delve into local cultural traditions and reconnect with seasonal food that is produced locally and enjoyed at the source. To help you along the way we've put together an interactive map, that way you'll spend more time tasting and less time sitting in traffic. Budleigh Salterton Farmers Market Pin Colour: Red When: The last Friday of every month from 9am – 1pm Location: Rolle Mews Car Park, Budleigh Salterton, EX9 6NG Just down the road from Ladram Bay, the Budleigh Salterton farmers market has a wide selection of produce from Clinton Devon Estates, including a range of venison via the estates deer management program. Exeter's Farmers Market Pin Colour: Yellow When: Every Thursday 9am – 2pm Location: Bedford Square, Exeter, EX1 1QA Foodies keen on tasting the Westcountry's best offerings can try and buy a wide range of food and drink at the Exeter Farmers Market. The market is in the heart of the city centre and provides a great setting as a food destination. Visitors can browse a delicious range of meats from chicken, pork, lamb, venison, beef and fish, to organic fruit and vegetables, apple juice, preserves, bread, pies and cakes. Local knowledge: Farmers markets provide a great place to talk directly to the people who know a lot about food and how it is made, even if you don't buy you can still get tips to improve your home cooking! Exmouth Farmers Market Pin Colour: Pink When: Second Wednesday of each month 9am – 1.30pm Location: Strand Gardens, Exmouth, EX8 4NP Exmouth Farmers Market is located in the recently redeveloped Strand Gardens right in the heart of Exmouth town centre. The market was started in 2003 and provides a great range produce from fish, meat, fruit, vegetables to dairy products and much more. All product is of a fantastic standard with traceability at the heart of this, just ask the stallholders who have been directly involved in producing the goods on offer to their ever growing fan base. Local knowledge: Do you keep animals yourself? Ask the producers about their organic and free-range conditions and see if you can pick up any tips to take home with you? Honiton Farmers Market Pin Colour: Light Green When: Third Thursday of each month 9am – 1pm Location: Lace Walk Car Park, Honiton, EX14 1LT Honiton Farmers' Market offers a very agricultural experience with local meats being brought straight from the farm. Other tasty goods on offer include fresh organic bread and vegetables. The market also has some specialist produce that include rare breed pork, venison and wild boar. For those less concerned about meat there are also a lovely range of local flowers, fruit and local honey's to take home. Flowers, Herbs, Fruit and Honey. Killerton House Farmers Market Pin Colour: Orange When: Third Saturday of each month March – October 10.30am – 2.30pm Location: Killerton House, Broadclyst, EX5 3LE Can you picture a better place to sample local farming produce than the grand setting of a beautiful National Trust country house? Nope, neither can we. Don't worry of your holiday doesn't match up with the 5 suggestions above, here are a few other recommended farmers markets dotted around beautiful Devon. Ashburton Farmers Market Pin Colour: Navy Blue When: 5 days a week Tuesday – Sunday – open all day Location: Library end of the West St Car Park, Ashburton, TQ13 7QH Barnstable Farmers Market Pin Colour: Brown When: Every Tuesday and Friday Location: Pannier Market, Barnstaple, EX31 1SY Dartmouth Farmers Market Pin Colour: Lavender When: Second Saturday of the month Location: The Old Market, Dartmouth, TQ6 9QF Paignton Farmers Market Pin Colour: Light Grey When: Held every first and third Wednesday of each month from 9.30am – 2.30pm Location: Occombe Farm, Preston Down Road, TQ3 1RN Greendale Farm Shop Pin Colour: Dark Green If you find there's simply too much to do in Devon and can't make it to a farmers market then be sure to try Greendale Farm Shop, it is open 7 days a week and is less than 20 mins from Ladram Bay. The shop has a tasty selection of meat, game, seafood, fruit and vegetables from trusted local producers.
A guide to Devon's farmers markets