Inspiration
First time in Devon or looking for extra adventure? Ladram Bay is at the heart of the East Devon coast and a perfect centre from which you can explore. Check out these articles for some inspired day trips and visits.
Book your half-term holiday at Ladram Bay.
What's On Over October Half-Term?
Book your Summer stay at Ladram Bay and give the family all of this to look forward to!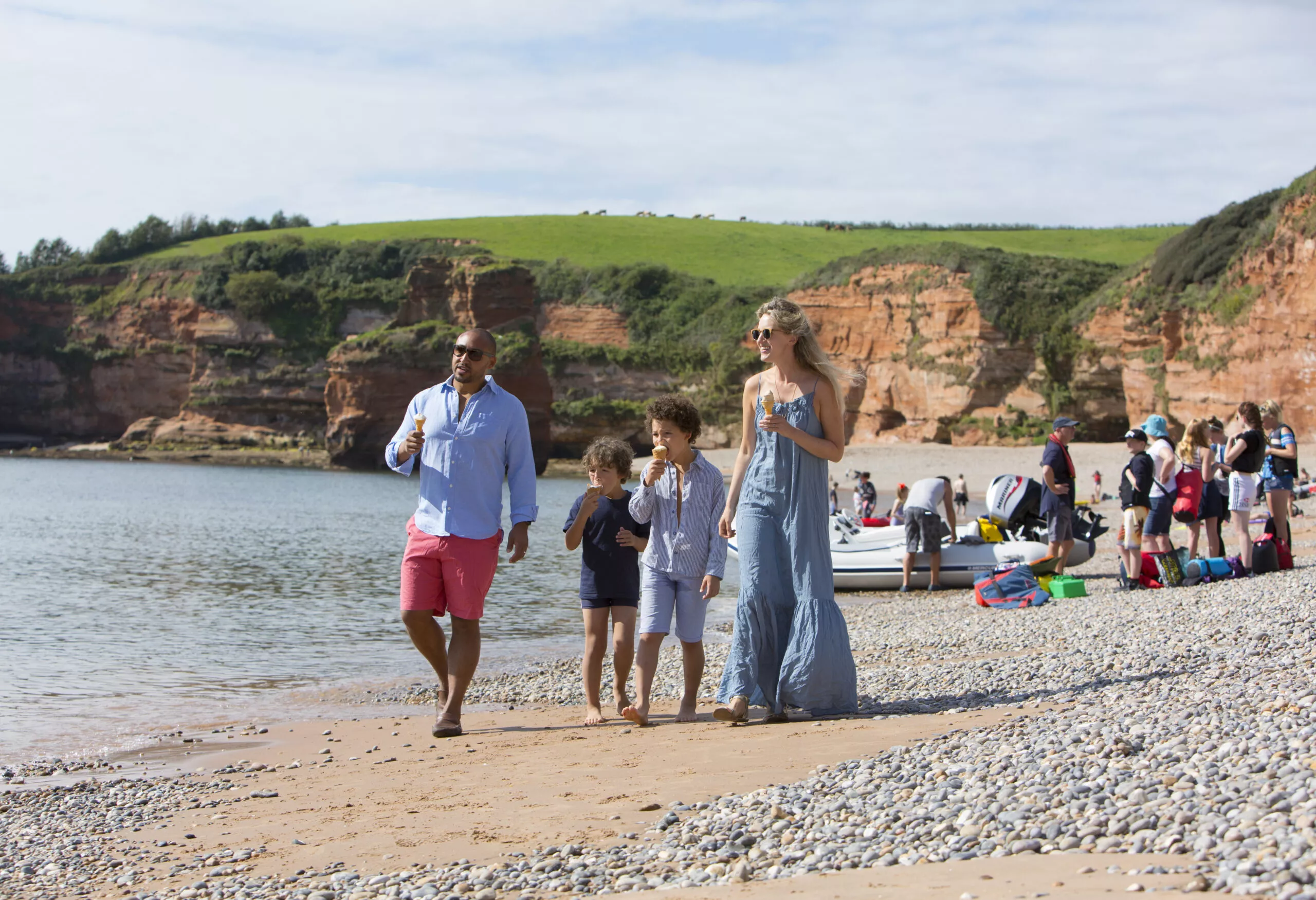 What's On Over Summer?
We're excited to welcome you back for a winter of fun with our pool membership. Splash around in the heated pool, entertain little ones in the small pool with play area, host a children's birthday party, hit an aquafit class or head to the gym for circuits. Signing up To sign up, follow this link to download our membership form and email it to info@ladrambay.co.uk with a passport photo attached for your pass. Alternatively, please bring a passport photo for your pass. How to book Booking for any activity is essential. Book up to 7 days in advance via this link. To learn more about making a booking, please follow this link to our helpful guide.
Winter Leisure Membership
We know that booking holidays can often feel like a stressful event, with so many options and things to consider. We've put together our top tips for perfectly planning your 2024 holiday. Plan around 2024 bank holidays Not only are long weekends at Ladram Bay the perfect escape from reality but booking a whole week off around a bank holiday means you get to save a day or two of your all-important holiday allowance and have a nice long (and well needed) break, too. Book for annual events Outside of the summer holidays, we host plenty of entertainment around the Easter holidays and Halloween to name but a couple. There's fun for the whole family – from Easter egg hunts for the little ones to fancy dress parties for young and old. It's always worth a visit to see what we've got going on! Check out or visiting acts, too. With a full entertainment programme all season long, there'll be something you love. Book ahead Save on stress and plan your 2024 holiday well in advance. You'll thank yourself next year! We offer a deposit scheme that allows you to pay the balance eight weeks in advance of your holiday, which gives you plenty of room to breathe. Look at off-peak dates We know the buzz of the summer holidays isn't for everyone. For maximum R&R, look at dates outside of peak season when the weather is still warm but the little ones are back at school. Our season runs from March to November, so there's plenty of time to explore the Jurassic Coast in a laid-back fashion. Check for last-minute staycations Not a forward planner and fancy a spontaneous getaway? Why not. It's always worth checking availability online or giving us a call on 01395 568398 – you never know what will be available last-minute in your budget. Explore different accommodation types We've got lots of different accommodation types here at Ladram Bay depending on what kind of holiday you fancy. If you love being in the great outdoors, bring your tent or tourer and enjoy views out across the bay, or glamp in one of our Otterpods and experience the best of both worlds. If a little luxury is your idea of a holiday, our sea-view holiday homes and lodges can't be beaten for the ultimate family getaway. Give it a try and have a holiday you won't forget.
Booking your 2024 holiday – our 6 top tips
The sun has arrived here at Ladram Bay and we're all looking forward to a busy summer season – we hope you are too.  We'd like to say a big thank you to all of you who have commented on the cleanliness of the park and how nice the grounds are looking. We must admit, the flowerbeds are some of the best we've seen on any park, so a big shout out to all the hard-working gardeners and grounds teams. A big thank you, too, to the whole team here at Ladram Bay for dealing with everything that gets thrown at them on a day-to-day basis. We're sure you'll agree they're all superstars.  There's been some famous faces here at Ladram Bay over the last few months. It's been great to have been showcased on both ITV's This Morning when we welcomed Josie Gibson to the park – airing in August – and Channel 4's Best of British By The Sea earlier this year with Ainsley Harriott and Grace Dent. It's wonderful to see our park get recognised nationally. It was also great to invite Exeter City Football Club for lunch as part of their pre-season schedule earlier this month. It never stops! We've got various street food vendors coming our way throughout the summer months as well. Please let us know which ones you enjoy and we'll make sure they keep coming back. We're pleased to introduce our recent Team Stars to you – these are the team members who shine in their roles and help create five-star stays. Make sure to say congratulations to them when you next see them.   Sales  Following a two-year absence, we're very excited that we can host our ever-popular owner's events once again.Having sold almost all of our holiday homes by virtual tour for the past two years, we're delighted that we currently have a limited range of holiday homes that can potentially be ready within a week or two, in time for a superb summer season. The Three Rocks We're lucky to have so many of our amazing team returning from seasons past so look out for familiar faces.Basking in the sunshine has inspired the bar team and we're excited to introduce our Summer Cocktail menu as the fairly fruity and the magnificently magical emerge from their creative minds! It's getting heated in here as the team compete in their summer incentive to see whose cocktail is the most popular. Let us know your favourites and tag us in your posts and stories with #pebblesatladram. As always, we've found our selection of Small Plates to be proving hugely popular amongst you, if you haven't had a chance to indulge, make time in the sun. Check out our specials board as Caroline and the team introduce us to some of their creations. This month we've seen some delicious choices including pan-fried Tuna Steak, Roasted Lamb Shank, Chilli & Pepper-Crusted Swordfish and fresh Scallops with Black Pudding. To save disappointment, remember to book your restaurant reservations via the app, website, email or at the host desk, with forward planning advised. Leisure Adult Activities: Along with the usual leisure selections to keep you healthy and active, rested and recovered, challenged and chilled out, we have a couple of new group exercise classes to offer:- Gym Circuits with Ian – Tuesdays & Wednesdays 6.00pm-6.45pm Outdoor Fitness with Kai – Tuesdays & Saturdays 9.00am-9.45am Aqua Circuits with Ian & Rebecca – Tuesdays 9.00am-9.45am. New for 2022 we are offering 1-1 personal training sessions with our new Gym Instructors Kai and Jenny and Leisure Manager Ian to help you with your health and fitness goals! Swimming PoolJoin us for the popular Adult swim sessions 8.00am-9.00am with a choice of an active or leisurely start to your day. START ActivitiesNew for 2022 we are excited to be able to offer more Scuba Diving sessions on the 10th and 17th August from 12.30pm-2.00pm under the expert guidance and support from Exped Diving. Limited places are available and bookings are being taken now, so don't miss out of this fantastic fun session for those aged 8 and over. We have been giving our climbing wall a new makeover, with the holds deep cleaned and reset for new challenges and easier lines for the younger climbers aged 4 and over. For more information contact the Leisure Reception direct. Entertainment As summer approaches we look forward to lots of exciting events. Enjoy visiting live acts including X Factor's Chico and Stevie Ritchie, as well as many other highlights including Daytime acts such as The National Festival Circus, Believe A Bubble & visits from Exmoor Zoo! We've got plenty of our own teams' shows, plus lots of fantastic daytime activities including our ever-popular Slime Making, Pottery Painting and the return of the Chocolate Party! Be sure to come on down to Waves Bar and join in the fun. Shop & Beach Shack We're well stocked and ready for a busy peak period. Make sure to check out the new swimwear lines and dry robes ready for your days at the beach. Plus, we've got plenty of new gift ideas and past favourites still available. Billy and his team will be on hand all throughout the summer period, while Sarah and her team are busy developing some new ice cream specials. Our full food menu will also be available throughout peak season, too. Reception We hope you're excited about the summer as much as we are. We are pleased to have welcomed back Jess and Dylan for the summer holidays – they'll be here to welcome you. We are expecting to be very busy in the next six weeks so just to inform you we are now open until 7pm on a Saturday throughout the peak season. Marketing We have a new face in the marketing department. Steph is joining us as Marketing Manager. Please do say hi when you see her – probably with a camera in hand!  Finally, we'd like to say a very big thank you to all of you who share your snaps when you're out and about on park. We love seeing you all enjoying yourselves on social media – please keep it coming. 
The Lookout from Ladram – July 2022
We're counting down the days 'till the start of season 2022 and very much looking forward to your return on park – it certainly seems quiet without you. Our amazing team have all been working extremely hard in preparation for our reopening. We're delighted to be welcoming back the vast majority of team 2021 and are especially proud to highlight three loyal team members for their long-standing commitment to Ladram: Andy Davies – Maintenance (21 years), Donna Smith – Bar Manager (15 years) Jan Dolewski – Assistant Maintenance Manager (15 years).  Our new projects are all coming along well, perhaps the most noticeable improvement on park is the addition of the extended indoor seating area, The Diner, within Coast which will no doubt prove to be popular. Throughout what has been a tricky couple of years we've all learnt lessons and introduced many new ways of working, some of which we've found to improve our offering such as leisure booking systems and the introduction of our app. As a result of changes introduced, we have also made the decision to keep the park closed to all day guests between March – November to allow you and our holiday guests to enjoy the best possible holiday experience.  Sales  Having had such a huge demand for holiday homes driven by staycation, we entered 2022 with over 20 new sales still pending from 2021, as well as releasing the brand-new plots/homes for 2022. Despite high demand, manufacturing, and availability challenges we have moved swiftly to secure an outstanding, although limited selection of 2 and 3 bedroom homes. Considering holiday home ownership? Come and see us soon for a no obligation chat. Email carlmoulton@ladrambay.co.uk to book a time convenient to you.  The Three Rocks After a winter spent preparing, the team here are ready to welcome you back & looking forward to seeing many familiar faces. Head Chef Caroline has been working hard, crafting and creating an enticing new menu, building on our fast favourites and weaving in American influences. We're still staying true to our country roots, continuing to grow our connections to locally sourced suppliers, demonstrated in our Seafood Linguine which will be exploring different coastal catches each week! We can't wait to work our way through some of the new choices, as well as the ever-popular Ladram favourites. This year we are expanding our bar selection, introducing Devon's fruity Frobishers to the fridges as a refreshing soft drink. We're thrilled to have the new Thatcher's Fusion added to the bar offering – we're already daydreaming of summer days on the balcony drinking this new flavoured cider! We've also introduced Brooklyn IPA to our draught collection for those of you searching for something contemporary.  After investment in Pebbles, we are boasting a new host area and some greenery addition to the balcony. We're retaining our current booking system, so please do continue to use our app or the website to book in. Leisure Due to its popularity, we have decided to continue operating the 'personal gym experience' whereby gym users book an hour slot for their party to exercise together with sole usage of the facility and workout space for your friends & family. New for 2022 we will also be offering Instructor led Gym workout sessions as part of our Adult activities for up to 6 people. These will be launching in April – watch this space for more information.  Our adult swim is aimed at those aged 16 years+ who want either a 'leisurely swim' (gentler pace) or more 'active swim' (to build speed and fitness). We will be operating a lane rope system to cater for both options which will be run daily between 8am-9am. This session can be booked 1 day in advance – limited numbers available so booking is advisable.  With new staff and the launch of exciting adult activity programmes planned for the season, the Ladram leisure team are ready to get you active and enhance your health and wellness experience.  Entertainment The entertainment team have been hard at work in rehearsals for our brand-new shows for you this year! We have an 80's show, a rock show, movies show and of course the return of our Born In The USA show! Our visiting acts calendar is jam-packed with a variety of fantastic acts booked ready to come and party Ladram style – top party bands, comedians, tribute acts, even performances from X Factor's Chico, Stevie Ritchie & Ray Quinn!  We're thrilled to share with you the creation of 4 brand-new character shows featuring our Ladram Heroes is now underway. Perfect for our younger guests, we're hopeful to launch these into our programme over the Easter holidays. We look forward to a spectacular season with Jubilee Celebrations, exciting activities, energising shows & hopefully lots of sun! Come on down and say hello to our 2022 Entertainment Team, featuring some new and familiar faces! See you on the dance floor!  Coast Takeaway We're proud to be introducing a new range of tasty homemade pies using sustainable local ingredients. Brand new biodegradable packaging has been sourced which will no doubt help toward our green efforts on park. The main difference and huge improvement to our offering is the extension of our indoor seated area, providing us with a 40-seater Fish and Chip almost ready for your enjoyment. We're excited to provide this additional much-needed facility – it's looking awesome so far! We really can't wait to get open! Shack and Shop With the 2022 season just around the corner the Shop & Shack team are very much looking forward to seeing our venues busy again with your familiar faces! Here at the Ladram Stores we're pleased to launch some tasty new alternatives within our 'grab and go' range, in addition to the new sandwich supplier boasting a super range of delicious fillings certain to fly off the shelves at lunchtime. We've also extended our 'free from' offering to provide for your dietary needs based on customer feedback. We're excited to launch additional bespoke to Ladram items due soon – imagery & details to follow! Down at the Shack we're working on the food offering and extending the favourites available for a day at the beach. New soft scoop flavours are to be introduced along with plant-based alternatives – who needs the sun to shine to eat ice cream! See you soon!  Housekeeping Introducing our new Accommodation Manager, Lana Birkenshaw. Joining us with a wealth of knowledge and expertise on the running's of all things housekeeping related, Lana has spent the last 33 years working at Devon Cliffs. Her job highlights include welcoming excited guests and ensuring that they create fabulous memories to take away, plus working outside with a brilliant team. Born & bred in Exmouth, local Lana is thrilled to be part of the Ladram Bay team and is very much looking forward to a superb season ahead.
The Lookout from Ladram – March 2022
Here at Ladram Bay, we're struggling to believe that the festivities are once again upon us – hasn't the year flown by!  What a fantastic end of season Owners' party we all enjoyed just a few weeks ago – the perfect finale to a fun-filled family-focussed year of making memories at Ladram Bay.  It's always nice to achieve and we're proud to have received a great deal of awards and accolades recently allowing us to stay ahead of the competition! We were awarded the Hoseasons Diamond Award for Family Fun in Devon, Somerset & Dorset for the 10th consecutive year just last month in addition not only retaining our Visit England 5-star accolade, but also receiving an extra special Gold award too… "VisitEngland's Gold Awards celebrate accommodation establishments that outperform in their category, offering exceptional quality within their star rating. The awards help guests find special places where hosts go the extra mile."  Other recent successes include the Tripadvisor Travellers Choice Award for 2021 plus the Platinum Loo of the Year 2021 accolade – everyone loves a good loo!   We've had an amazing team this year; the commitment and enthusiasm shown by all was celebrated at our Team star awards just last month. Outstanding effort & dedication to Ladram Bay were recognised with individual department winners, and as a result of the incredible commitment displayed this season, for the first time ever we saw two winners announced. Our runner up was dedicated Pete Swist from Maintenance. Always on-hand to jump in and get the job done, hardworking and efficient Pete is a valued employee by team, management & guests. Multi-skilled in hot-tub checks, siting & preparation of our new Owner's vans on park, Pete has excelled within the busy season. This year's winner has received three team star monthly nominations in as many years. Finally taking the crown for 2021 was terrific team player Guy Hilliar. Consistently a strong performer providing huge support to the Three Rocks management team and inspiring those around him with a positive can-do attitude.  A themed night of fantastic live entertainment, delicious food from Dough bro's, and even a spectacular firework display really did end our open season with a bang!   Our current opening times throughout winter are from 9am daily however over the Christmas period office hours will change to the following.  Sunday 19/12/2021  9.00-3.00 Monday 20/12/2021 – Wednesday 22/12/2021 9.00-4.00 Thursday 23/12/2021 – Monday 27/12/2021 Closed Tuesday 28/12/2021 – Thursday 30/12/2021 9.00-4.00 Friday 31/12/2021 & Saturday 1/1/2022  Closed Sunday 2/1/2022 9.00-3.00 Should you wish to contact us please do call on 01395 568398 or email info@ladrambay.co.uk – we will endeavour to reply to all messages asap upon our return.    The Three Rocks We've appreciated the slightly slower days of September and October but enjoyed a final bang over half term, with the fabulous fireworks display and buzz around the entertainment activities. The team had their creative juices flowing when designing the hugely successful Halloween cocktails and milkshakes. Our in-house competition saw summer winner Matt Gilbert with his deliciously sweet Carri-bay-an Krush and autumn winner Hollie Hinksman with her MagicalMad Hatter beverage come up trumps.  We had an amazing evening at the Park Awards and we're proud to boast two winners across our departments. Our kitchen hand Blake Blackwood took the back-of-house award after a strong year, proving himself as a reliable and committed team member, particularly popular as our chief Carvery chef. Freddie Ziegler won our front-of-house award; an especially gifted barman and heavily dependable member of our large team. We're thrilled to have our Team Leader Guy Hilliar win the overall Team Star of the year for the entire park after an incredible performance – congratulations Guy! Over the winter we'll be hard at work creating a new menu – watch this space! Please feel free to get in contact with fan-favourites and ideas.  Sports & Leisure  Although the park is closed for the season, don't forget our Swimming Pool complex is still open for day entrance this winter. Open 5 days a week, Wednesday to Sunday, 9.30am — 6.00pm between 3/11/21—1/3/22, the perfect opportunity to relax and rejuvenate in between the busy festivities! (Please note facilities will be closed 24/12/21—26/12/21 and 31/12/21—1/1/22 inclusive) . For more information click here. Entertainment What an amazing season it's been at Ladram Bay! We want to say thank you so much to all of you who have supported us throughout 2021, we hope you have had as much fun as we have.  We finished the season with a spectacular Halloween half term, followed by a magnificent End of Season Owners Party. Roll on 2022!  We are now in the process of booking live acts for next year and are pleased to confirm we already have a date for your diary: Complete Madness are returning to Ladram Bay on 17th September 2022! We hope to see you there.  Shop and Beach Shack Local to Ladram? We're open for both your essentials and tasty treats between 9.00am—3.00pm each day (excluding 24/12/21—2/1/22 inclusive). Pop in and say hello for your hot & cold food/beverages, newspapers, milk, bread eggs and much more!   Marketing On behalf of the Marketing duo here at Ladram Bay we'd like to take this opportunity to thank you all for your active involvement both online within our social media and via email submitting imagery and magical memories helping create plenty of content highlighting what an amazing special place Ladram is.  If you fancy a giggle, be sure to look out for our Christmas Saturday sing-a-long clips bound to make even Scrooge crack a grin! These will be shown on Facebook this December, and may even inspire you and your loved ones to submit your own festive renditions.  
The Lookout from Ladram – December 2021
It has been fantastic to see so many guests enjoying peak season, we can hardly believe summer has been and gone already!    Every department has worked so hard in keeping things going during what has been a challenging time for all. We'd like to extend a huge well done.    Summer 2021 has boasted many highlights. You may have spotted our feature on ITV's This Morning as part of presenter Josie Gibson's recent challenge to master the art of paddle boarding after a lesson from expert SUP instructor @beachy_becks. Following her charming showcasing of the bay, and desire to return for a summer stay, Josie was the perfect choice to cut the ribbon for the official opening of our new Adventure Playground alongside her lovely family. 2021 saw the launch of our summer street food festival. Culinary delights included seafood from Harry's Kitchen, Indian dishes with Simon's Kitchen, and woodfired pizzas from Dough Bros. We have been proud to host such creative and diverse vendors throughout the summer and do hope to include them in future October plans and the season ahead.   The August bank holiday attracts many excited guests to Ladram Bay and this year was no exception. We were happy to welcome a pod of dolphin visitors back to our waters and lucky Neil & Bev Sudgen captured some amazing video footage. Here's hoping they become regular visitors! We're delighted to have recently invested in 5 brand-new top-of the range washing machines to be housed within our main Launderette adjacent to the Reception building. In addition to a more reliable and efficient service, these impressive new machines now available will include a contactless option for payment.  A Sensational Team Our incredible team have time & time again demonstrated their commitment, determination, and superb skills. Summer superstars of our monthly #teamstar accolade include: May – Dina, Housekeeping  Always reliable and extremely loyal, cleaning both accommodation (more holiday homes than ever before to an exceptional level!) plus park facilities, it's a pleasure to have her on our team.  June – Guy, Restaurant Supervisor Consistently a strong performer providing huge support to the Three Rocks management team and inspiring those around with a positive can-do attitude.  July – Toby, Maintenance Labelled as 'Ladram's Most Improved Team Member' Toby's knowledge and skillset continues to grow and grow, matching his contagious enthusiasm.   August – Ben,  Leisure Demonstrating an excellent work ethic and commitment to helping others; Ben's determination and superb communication skills have been a fundamental asset to the team. After an outstanding 8 years of dedication to her role at Ladram Bay Holiday Park, we've waved goodbye to our wonderful Jobs Controller Jasmin Horne. Originally joining us in 2013 as a member of the Reception team, Jas has proved to be a loyal, talented, and driven team player, strengths which she will no doubt need in her new administration role. We'd like to take this opportunity to wish Jasmin all the very best for her exciting future and thank her for her hard work and commitment, we'll all really miss her!   Joining the office team and taking over the helm from Jasmin in the pivotal position of Jobs Controller is Sam Brown. "I'm originally from the East Coast but mostly grew up in Gloucestershire. I've moved around quite a bit including Lancashire, South Devon and most recently just north of Bristol. However, the pull of the Devon coast has led me to find the stunning Ladram Bay and I'm looking forward to making this rather special place my home. After spending many years working in primary education and healthcare, I'm looking forward to working in a new environment and seeing people at their happiest. And who could be happier than being by the sea in a place like Ladram Bay, where I've already received the warmest welcome."  Another team member to introduce: affectionally known as 'Big Boy' our brand new tractor, the John Deere 6100m, boasts a max power of 111hp. Perfect for essential jobs plus caravan and motorhome manoeuvres. We're not sure it will stay this sparkly clean for long though! The Three Rocks We are so happy to finally have a sense of normality and are able welcome people back through the doors with lowered restrictions. The investment in the booking system has greatly helped us in Pebbles over the summer in controlling bookings and the flow: please continue to book via the app or the website where possible.  Our complex team are the true embodiment of a united front, with this incredible group pulling together through several challenges thrown our way. From the 'pingdemic' to hospitality shortages, they have honestly been our greatest asset and have never failed to continually amaze us with their dedication and energy! We are so proud and lucky to have such a talented team working with us and happy to be moving into quieter days with the hope of getting some well-needed rest. Our Team Leader, Guy, deservedly achieved Team Star of the Month for August for his huge efforts and involvement in aiding the Management Team with the running of the Three Rocks through this eventful period. A huge shout out to Team Leader, Harry, who achieved a summer recognition in July for his outstanding performance in running Waves Bar and for always being a positive force! We wish him good luck, along with a few of our others who are now beginning their university journeys. As you can imagine, the kitchen team have been exceptionally busy with our new Head Chef Caroline thrown straight in at the deep end! Despite adjusting the menu through our challenging period, she and the team have continued to experiment with some delicious specials, including some enticing fish dishes such as the Seafood Linguini and the Pan-seared Seabass, as well as modern twists of classics including the Pork, Cheddar and Black pudding Scotch Egg. They are looking forward to creating some seasonal specials for the upcoming weeks so please keep an eye out on the specials board.  The bar team's cocktail menu has been a hit over the summer, and they are excited to play around with some creative autumnal cocktails. Watch out for their newest inventions very soon.  Thank you to everyone who has dined or drank with us over the holidays – we are so grateful for your support. Entertainment Since the relaxation of the rules in July, we've been so happy to get you back where you belong: on the dance floor and enjoying many a night in Waves Bar with us!  We have been fortunate to have some absolutely fantastic live acts from bands, singers, comedians, wrestling & science shows, to PJ parties and fancy dress nights. Still lots to look forward to this season, including Halloween with plenty of 'spooktacular' activities and fancy dress parties. As always do check out the diary for our our listing of visiting acts over autumn.  Some of the unmissable acts performing this autumn include: 25th September – 60's Explosion, Tribute Band 9th October – Riviera Dogs, 80s Party Band 16th October – Roger Parkes Show, Ladram Favourite, Vocalist 30th October – Mainstreet, Band Sports & Leisure It's been excellent to see many of you enjoying our new Activities programme. From Aqua Fit to our outdoor Welcome Workout, we've loved playing a part in helping you keep fit and have fun this season.  Following your brilliant feedback, we will continue to run our adult activities programme through the autumn. More details below. I'm sure you've already had the chance to meet the newest members of the Leisure team. Amelia and Emma have been doing a wonderful job during a very busy summer. We're delighted to have them join us.  Believe, focus, achieve!  Coast Takeaway We've had a busy time and are proud to continue to promote sustainability, green packaging and great food.I hope you've been enjoying the efficiency and convenience of ordering via the Ladram Bay App. Please do remember if you can't find a time slot which suits, we will always endeavour to fit you in if you give us a call on 01395 567733. Our opening times are 5pm – 9pm (Closed Wednesdays). Ladram Stores and Shack As autumn comes around you can relax knowing that Ladram Stores will be stocked with all the usual provisions of fresh produce, holiday staples and treats. We're open daily Sunday – Thursday 8am-6pm, Friday & Saturday 8am-7pm.  We're sure you will continue to enjoy our gorgeous beach as summer comes to a close. Our popular beach activities and Shack will remain open throughout the autumn between 9am-5pm daily (weather permitting). Marketing Competition time! The search has now begun for inspiring landscape imagery to use within our 2022 Ladram Bay Holiday Park calendar & promotional materials.  Have you captured some stunning local scenery which you feel deserves pride of place as one of our 12 top shots within our calendar next year?   We're looking for photos taken throughout the season, in all weather, of our splendid location plus the flora and fauna on park.   To enter email carlanewman@ladrambay.co.uk and we'll be sure to credit you & send a thank you prize too if your image is selected.  Please note photos must be of landscape orientation, you must have permission to use the image and it must be of a good file size. Photos of individuals cannot be entered on this occasion. 
The Lookout from Ladram – September 2021
We know that as the summer season draws to a close, the task of clearing out your caravan can feel like the last thing you want to do. Follow these simple steps for a pitch perfect portable home when the weather warms up again. Clearing out your caravan Remove anything that might not be so savoury a few months later and make sure that all valuable items are removed and stowed away somewhere safe. Cleaning your caravan Clean the kitchen, bathroom and fridge with bicarbonate of soda or an anti-bacterial cleaner which will help stop a build-up of mould while your caravan's out of use. Cleaning the kitchen thoroughly should prevent any mould, although for the fridge it is also essential to leave the door ajar. If your caravan has a cassette toilet, this should be thoroughly drained and cleaned before storing over winter. Avoiding a damp caravan Moisture can cause real problems for your caravan if it builds up over the winter: damp can damage your soft furnishings and interior walls. There are a number of precautions you can take. Drain the water system by opening taps and removing the drain plug on the outside of the van. Don't forget to replace the plug, but you can leave the taps open, (for mixer taps ensure the lever is in the central position to allow both hot and cold to drain). Drain the toilet's water tank and remove the shower head, ensuring any excess water has been shaken free. Store any removable cushions / mattresses in your own home if possible. If not, leave them in the centre of the caravan rather than around the edges where they are more susceptible to the damp. Leave bowls of salt in a few places around the van – they can help absorb excess moisture from the air. If you can, open doors and windows from time to time to allow air to circulate. One of the more effective ways of achieving full drain down is to empty the system on your last stay on site and leaving any drainage points open before towing home. The final journey allows the last drops of water to leave the system. General maintenance Think about a service, now could be a good time to get your caravan serviced, while the garages are not too busy. It means your vehicle will be ready to roll as soon as you fancy heading off. Oil any moving parts, such as the handbrake, before putting the van into storage. And ensure the handbrake is left off (if possible) to stop the drums sticking. Taking the weight off the wheels for a few weeks by removing them and using axle stands can help extend the life of your vehicle's suspension and tyres. If you want to cover your caravan, use a breathable cover that allows the air to circulate. Always use proprietary caravan cleaning agents that are designed to be kind to the various materials used in caravan construction. A pressure washer, while powerful, can direct spray under trim and damage bodywork and seals. Charge the battery before storing for a long period and avoid storing the battery in a location where freezing can occur. Freezing will cause irreversible damage to the battery plates and container as the acid inside expands. it is essential that the gas valves on top of the cylinders are closed or the regulators (if a clip-on type) are disconnected from the cylinders and caps or cloths are fitted over the ends of any open pipework. To help preserve the exterior of your unit and ease the chore of cleaning before the first spring outing you may wish to consider either a breathable cover or the use of a protective coating, such as Fenwicks Overwintering fluid. When choosing a cover it is important for it to be breathable, soft enough not to damage the caravan surface and tough enough for longevity. The alternative of a waxy protective coating has the advantage of low cost and if left on all winter it is relatively easy to wash off in spring because of the natural degradation of the coating. All caravan covers have a limited life, but some inferior products can last little more than one season. The main problem is ultra-violet light degradation. Consider the cover as sacrificial – it's better the cover degrades rather than your GRP panels discolouring. Storing your caravan – House-It You will also have to decide where to store your caravan while it's not in use: for example the choice could be between your own property and a dedicated storage site, where you will have to pay a small weekly fee.
A Guide to Caravan Winter Maintenance
As the summer sunshine and thoughts of the return to normality edge slightly closer day by day, we're happy to be open and looking forward to a fun-filled season creating many magical memories for us all to cherish.  With fresh-air and outdoor fun being high on everyone's agenda, we made full use of our slightly later start date this season by refurbishing the old outdoor play area and replacing it with an incredible play zone just waiting to be explored! Featuring a multi-level adventure frame with slides, wobbly bridges, tunnels and obstacle course elements, there is also a toddler's area with a smaller climbing frame perfect for the little ones! The addition of swings for both children and toddlers are already proving to be a huge hit! For those fans of super popular pirate ship Nah-Nah, you'll be pleased to know she is still here in prime position overlooking the bay.  The Bay View Barista, new for 2021, located in the ideal spot to enjoy some light refreshments with a perfect panoramic backdrop, has already been well-appreciated. We'll be opening this facility on selected sunny dates to save you the walk to the bar and provide well-deserved tasty treats. You may have noticed over the years the dinosaurs on our Jurassic Golf course have faded from their bright & bold initial designs as a result of the summer sun. We're pleased to have recently found a 'dinosaur specialist' to lovingly restore them to their 'R'awesome original state and this will be completed within the next few weeks ready for your summer selfies!  A great season ahead Throughout the period of lockdowns and reopening we've been blessed to have been surrounded by a dedicated and passionate team here at Ladram Bay. We are delighted to share with you the news of the recent Team Star announcements for the season thus far. Winter 2020/21 – Kayleigh Williams Super-organised Restaurant Manager Kayleigh took on the additional challenge of managing the Housekeeping department this winter in order to prepare the hire fleet for the season ahead and provide an excellent handover for new Manager Nikki. Always willing to go the extra mile, Kayleigh is a committed and loyal team member, with many talents we are lucky enough to benefit from.  Introducing Nikki Badger, our new Housekeeping Manager…  "I have been in retail management for over 27 years, until we bought our marvellous motorhome 2 years ago and changed direction to the world of holiday homes, motorhome traveling and camping! I have 2 grown up children, 3 grandchildren and been with my husband for 33 years. Family is a big part of what's important to me. I feel very lucky to be part of Ladram Bay team, it's such a great place to work in such amazing part of Devon." April 2021 – Pete SwistDedicated maintenance team member Pete Swist is always on-hand to jump in and get the job done. Hardworking and incredibly efficient Pete is a valued employee by both team, management & guests. Multi-skilled in hot-tub checks, siting & preparation of our new Owner's vans on park, Pete has excelled within what has been an exceptionally busy month. Here at Ladram Bay it's important to us that we do our bit to protect the environment and where possible improve our green efforts. We're pleased to introduce our newest team member 'Erin-Page', our Double-use Universal Charging point. Supplied by Pod Point one of the leading UK providers of charging infrastructure for electric vehicles, the new bay is located near the entrance to the car park, available for all to use. For more information on pricing or to use, simply download the Pod Point app online.  Summer 2021 After a long wait, we're over the moon to have finally re-opened our indoor offering in the next stage of the government's guidelines. After the huge demand last year, we have invested in a booking system for a more smooth and efficient service. We're hoping this will ease our host system in the restaurant and allow for a simpler operation. Bookings can be made 5 weeks in advance via a link on the Ladram app or online. After booking you'll also receive a confirmation text or email, making life easier for us all. We look forward to welcoming you soon.  We say hello to a few new faces this season as we welcome Ryan our new Entertainments Manager and Kasey our Coast Fish & Chip shop Manager. Both great new additions to the Retail team that have already brought some fresh ideas and are enjoying meeting you all.  There's lots to look forward to as we venture through 2021 in live music, great bands, awesome events, the Euro's and hopefully some warmer weather! The Three Rocks After the first five weeks of a few braving the April showers, we've been excited to welcome people back inside to dine and join us in enjoying the amazing Allstars offering! We have revamped the uniform this year, losing the black shirts and replacing them with a more contemporary vibe; our array of blue tee-shirts sport a "Ladram Rocks" design created in-house which encompasses the fantastic coastal niche of the bay. Matched with a more relaxed ensemble, we're very pleased with the outcome and hope you like it too! The arrival of the quaint 'Bay View Barista' van was a welcome addition to the Three Rocks. With a selection of tasty cakes (and even draught beer and cider on tap!), be sure to visit and have a treat with a view. An excellent pitstop when starting or finishing the coastal path.  We're proud to have created a delicious 2021 menu full of new flavours and inspired locally-sourced ingredients. We have found our selection of Small Plates have been very popular (including amongst the team!), with the delicious Pork Belly Ends being a fast favourite. Be sure to try a selection of these if you haven't already! Our team of chefs have also worked hard on cultivating the perfect blend of flavours in the Bowls; the Pad Thai exhibits the aroma of Asia whilst Buddha 2.0 is a colourful advancement on 2020's version. If you're looking for something simple, we have still incorporated some of our classic dishes, just with a modern twist.  We're also happy to announce our newest Complex Team Leader, Harry. He's had an excellent start to the season and we're looking forward to seeing him in action in his new role. Some of you will remember our exciting team-designed cocktails from last year. The creative juices have been flowing once again and we have released an enticing number of concoctions for you to try out. Check these out on the app! We welcome feedback so please let us know what you think and send us in your pictures!  Entertainment Entertainment has obviously been affected hugely by the pandemic and the government restrictions, but we are finally on the way to some normality! The team have been rehearsing lots of new exciting shows for you which we can't wait for you to come and watch.  This year's Allstar productions are:  Sisters of Pop celebrating some fantastic girl bands from through the decades. Boogie Wonderland a fantastic non-stop 70's party show to take you back down memory lane.Soul Town bringing you the sounds of Soul & Motown, sure to get you singing along.Born in the USA a tribute to the great artists from across the pond including Madonna, Tina Turner, Whitney Houston and much more.  Interested in looking ahead to our visiting acts? Check out the diary. We've a brilliant mix of popular favourites returning plus new and exciting acts bound to impress debuting on the Ladram stage.  26/6  Jilted Joey (Ska and reggae show)  24/7 Chuckletruck (Comedy band) 10/9 Complete Madness (Tribute act)  9/10 Riviera Dogs (Band)  Daytime Family Entertainment @ 2pm 2/6  Explorer Dome  28/7  Science Boffins  4/8 Mega slam wrestling  11/8 Explorer Dome  18/8  National Festival Circus  25/8 Believe-a-bubble 29/8 Rich Cotell (Male vocalist)  27/10 Jay Rawlings (Circus skills) *Additional charges and pre-booking may apply. Things will be a little different for a while until we are totally free of restrictions, but we can't wait to see you all and enjoy some great evenings with you! Sports & Leisure As the world begins to re-open we're pleased to be able to launch several new offerings to the Sports and Leisure department in addition to our fantastic swimming pool complex. The leisure lounge area and showers have now reopened in line with government guidelines however the steam room and sauna will remain closed for the foreseeable future.  Our Aquafit classes will run weekly starting from Tuesday 25th May between 9-9.45am. Bookings can be made at the Leisure desk 1 week in advance of the session at just £5.00 per class. Suitable for aged 14+ we've limited spaces available so book soon to avoid disappointment.  We're excited to launch 'Boot Camp at the Bay', a brand-new outdoor fitness class commencing in June on Saturday mornings. Keep an eye out for further information coming soon and join the team to kickstart your weekends perfectly.  As experienced Personal Trainers and gym lovers, Ben and I are keen to see more of you taking advantage of our fantastic gym upstairs in the pool complex. We've purchased a selection of new equipment now available for your use including 3 new fitballs, 3 pairs of kettlebells, plus yoga mats and a tyre to enhance your workout experience. Additional kit is due in the next couple of months – just ask if you require any top tips.  New weekly challenges to help spark enthusiasm for your exercise needs alongside an awesome sound system will keep you motivated through your workouts! The gym is now open between 7.30am-6.30pm with hourly slots available for individual/ social bubble use. 14–15 year olds can access the gym with an adult present, why not get inspired more by joining Ian for a supervised instructor led session aimed at 12–15 year olds on Thursdays and Saturdays?  Pre-booking for all swim & gym sessions is essential, and this can be done from the leisure desk. Coast Takeaway Introducing Kasey Dunning, our new Coast Manager… Fish & Chips is in my blood! Creating the perfect portion of this seaside favourite began for me 14 years ago when I learnt the trade working in my parents' takeaway in Blackpool.  Having mastered my skills alongside my partner Holly, we ran a fish job for several years in Norfolk before moving southward to sunny Devon. Together we are very passionate about sustainability, green packaging and great food. Currently we are open 5pm-9pm, 7 days a week and whilst walk-ins are welcome, ordering via the Ladram Bay app is preferred. We've a wonderful selection of locally sourced options on our menu and can cater for your dietary requirements – just let us know. We very much look forward to meeting you all throughout the season, let's make it a good one!  Ladram Shop and Beach Shack With a forecast 16-day heatwave predicted this June we're very much looking forward to the summer ahead. We'll be fully stocked in both the shop & shack for your holiday essentials and tempting treats so be sure to pop in at your convenience.  The shop has benefited from an updated new look with a more suitable layout proving to be successful so far. We've introduced lots of new lines including a Pickles plush toy (£9.99) and some character VIP lanyards (£2.50) – perfect for the kids! Our Lobster Blue hoodies remain a bestseller, don't miss out on the new colours for 2021; lemon yellow & burgundy, just £39.95 adult / £29.95 child. Our new Lobster Blue adult sweatshirts in coral, denim blue and grey are a superb garment in the changing seasons, just £34.95.  After the addition of brand-new paddleboards and kayaks to our beach offering, the shack team are pleased to be busy with water sports hire already – the summer is on its way! Our new temporary decking on wheels is proving to be popular with many guests enjoying the peace, tranquility and perfect panoramas it offers. We've new items on the hot food menu including the mouth-watering breakfast bap available from 9am, at just £4.95. Start the day in style with this sausage, bacon & egg welcome wake-up call! Fancy a sweet treat? Why not try our whippy sharers ideal for a hot day at the beach, just £4.95.  Strawberry Swirl: strawberry sweets, strawberry sauce, sprinkles, marshmallow pieces Chocolate Delight: chocolate sauce, Maltesers, chocolate sprinkles, flake pieces. Our current opening times are as follows;  Shop:  8am-7pm Sunday to Thursday 8am-8pm Friday & Saturday  Shack:9am-5pm Sunday  to Thursday9am-6pm Friday & Saturday Marketing As a result of the initial success of our first #LadramLorry we're pleased to now boast a fleet of 4 x 43-foot transporter lorries, proudly driven across the length & breadth of the country by the Greendale Farm Shop drivers going about their daily business whilst raising awareness of our fantastic 5 star park. Have you seen them on your travels? Simply snap a pic (not from the driving seat!) and send it our way using #LadramLorry After a fabulous digital celebration of tourism within the South West earlier in April we are delighted to announce we've received another award to add to our collection; the Bronze Accolade for Holiday Park of the Year 2020/21 in the Tourism Awards – South West. After such an unprecedented & challenging year for us all, we're looking ahead to what's already proving to be a super start to 2021!  Enjoying your time at Ladram Bay or reminiscing of days gone by? We're always keen to receive copies of your impressive holiday snaps throughout the ages to re-use on our social media channels and we often share these for #ThrowbackThursday posts. Email your best shots to carlanewman@ladrambay.co.uk and we'll share our favourites – just don't forget your details and dates if possible! Thanks. Housekeeping Introducing Nikki Badger, our new Housekeeping Manager…  "I have been in retail management for over 27 years, until we bought our marvellous motorhome 2 years ago and changed direction to the world of holiday homes, motorhome traveling and camping! I have 2 grown up children, 3 grandchildren and been with my husband for 33 years. Family is a big part of what's important to me. I feel very lucky to be part of Ladram Bay team, it's such a great place to work in such amazing part of Devon."
The Lookout from Ladram – June 2021
What a year it's been! Very strange, and often stressful for us all.  We were so delighted to re-open on July 4th and get Ladram Bay back up and running, bustling with holiday happiness and positivity –the staycation has definitely taken off! I'm sure you'll agree our dedicated team have done a fantastic job of adjusting to the 'new normal' and making Ladram both a safe and enjoyable place to take a well-deserved retreat from everyday life.Thank you for the many calls and kind words received as a result of our adjustments on park. It truly is heart-warming to hear that you appreciate all the efforts made, your feedback has been a driving force to keep us focused.  Red Zeppelin www.redzeppelin.co.uk #Teamstars We hope you've had an enjoyable summer; it's been great to see you following the unprecedented and surreal start to the season. This year has certainly been one of a kind but throughout the season our five-star team have risen to the challenge and made us extremely proud.The Ladram Bay #Teamstars for season 2020 so far are as follows;  MarchMike, Ladram Stores ManagerAn integral part of our team supplying both our on park employees and the local residents with all important lockdown provisions, he deserved a huge thank you and well done for his efforts. AprilVendy, Accommodation ManagerA true team player, who throughout the lockdown period continued to go above and beyond, continually offering help to all.  MayEmma, Assistant AccountantShowing her dedication and hard work throughout the closed period – with her rapidly growing workload. JuneGuy, Restaurant Team LeaderThroughout the lockdown period he was always supportive, since the re-opening he has been instrumental in helping the Pebbles team safely open following the new guidance. JulyLorraine, HousekeepingHaving recently undertaken a new role within the Housekeeping department, she has proved to be incredibly versatile, dedicated and committed to Ladram. AugustSarah, Kiosk ManagerWorking consistently hard throughout the busy summer running her area independently, her positive attitude contributed to her gaining this award. Watch this space for the announcements of the #Teamstars for the duration of the year. We'll be sure to publish the winners on our social media pages plus in the Winter blog. Thank you On behalf of myself and the management team at Ladram we'd like to extend our gratitude for the patience and support you've shown the teams on park this season.With the ever-changing guidelines and the interpretation of said guidelines providing us with huge challenges on a sometimes-daily basis your understanding has been much appreciated. I hope you managed to take advantage of the recent government 'Eat out to help out' scheme – it certainly proved popular with us being fully booked on many of the evenings. The 3 Rocks team coped admirably and continued to provide great quality meals with excellent service.The shop and shack have seen plenty more footfall as many have stayed away from the communal areas and head towards the beach or eaten in their Holiday Homes. The great weather at the start of the summer certainly saw these areas tested and, in my opinion, both teams came through with flying colours. It is likely that many of our new 'track and trace' booking systems are going to be with us for a while. If you do have any suggestions as to how we can improve our Retail offering, please contact management to discuss further. Sales Since the lifting of Lockdown and the reopening of Ladram Bay, we have been super busy here in the Sales Department. So busy in fact that we've limited stock and pitches available, and for the first time in years, a waiting list for those requesting a Seaview Plot. It certainly seems everyone is keen to consider Holiday Home Ownership! The demand for the staycation has proved exceptionally popular and we are excited to announce that here at Ladram Bay we have secured a limited number of brand-new homes, covering a range of price points and specifications, all of which could be ready for the start of season 2021. If you're interested to find out more pop in and see us for a chat – our team will be delighted to give you a park tour and discuss the options available.Best wishes Carl, & Dom The Three Rocks After 4 months without the sound of the ticket machine, we were ready to fire up our ovens, switch on the beer taps and welcome you all in for meal with a view!  We had a much busier summer than expected, especially when considering our COVID restrictions. If you have dined with us, you will have noticed we are operating a sign-in system with a host station, a one-way system around the restaurant and have changed the ordering process to include us delivering your drinks and food via trays in a way to reduce contact. These changes will still be in effect as we enter autumn.  We also launched our new Ladram Bay App which has certainly revolutionised the experience we offer, with the removal of the need to queue and instead, allow you to relax and order from the comfort of your table. If you haven't yet used the app, download it via the AppStore or PlayStore before your next visit. The team will be happy to assist with any issues.  Despite how busy we have been, Matt and the kitchen team have still been experimenting with some enticing specials over the summer, including some fantastic fish dishes such as the 'Fish du Jour', which has been an ongoing utilisation of daily catches. He is continually looking for inspiration and ways to seize the time of year, whilst showcasing ingredients that are exclusive to our incredible coastal setting. He will no doubt be developing these further into September. Though the Pebbles' menu has been slightly reduced, we have found our new Poke Bowl and 'street food style' small plates offering to be very well received, as has our alternative 'Soup of the Bay' flavours, which attempt to elevate those old-fashioned classics with a contemporary and vibrant twist.  The bar team are also excited to finally have some time to play around with some cocktail ideas and milkshake flavours, we are introducing a team-made cocktail list so watch out for some of their inventions and give them a try!We're really proud of our incredible team here at the complex who have worked extremely hard, upheld our excellent customer service standards, continually produced fantastic food, all with smiles on their faces despite some very tasking days! The team's commitment to offering a great product and service has been unfaltering and we're looking forward to a few quieter days to rejuvenate and energise!  Donna, Kayleigh, Matt & Team Entertainment WOW, what a year we've had so far and for Entertainments it's been a bit of a rollercoaster ride!We've been told we can, and we can't a million times but, we thank you all for your constant support. The ever-changing schedule has left you guessing at times but, we can assure you that we are going to end with a BANG! Our Allstars are back in rehearsals and are very much looking forward to providing you with a fun-filled, jam-packed autumnal schedule for the coming weeks.Until then, we hope you've enjoyed your time with us. We thank you for helping us stay safe and abiding by our new measures whilst enjoying what we've had to offer in Waves Bar and outside.See you soon. Joe & Ozzie's Allstars Sports & Leisure Thank you all for your great feedback regarding the pool re-opening.  We hope you've been enjoying having use of our fantastic facilities again. The booking system seems to be working very well and we expect it will be around for a while. We do appreciate that we've been booked up quickly over recent weeks and thank you for your patience and understanding. It should certainly start to quieten down now, and we are seeing many spaces still available daily, available for both Holiday guests and Owners. (Please note day visitors are currently prohibited) Many thanks The Leisure Team Coast Takeaway We'd like to say a big thank you for your support throughout these very strange and testing times. It has been challenging getting used to our new procedures but with everyone's help & understanding, we feel we've succeeded in supplying you with our delicious takeaway goods to our usual high standards, safely. I hope everyone has familiarised themselves with ordering via the new Ladram Bay App. Please do remember if you can't find a time slot which suits, we will always endeavour to fit you in if you give us a call on 01395 567733. Our opening times from Friday 9th September are 5pm – 9pm (Closed Wednesdays).Hope to see you soon!Scott, Jay & Team Coast Ladram Shop & Shack As your tan fades, and the height of summer 2020 becomes a distant memory, relax knowing that we are still fully stocked both at the Shop & Shack and will continue to run beach activities throughout the autumn. (weather permitting). Our opening times from September until October half term will be as follows;  ShackSunday – Thursday: 10am – 4pm  Friday & Saturday: 9am – 5pm ShackSunday – Thursday: 10am – 4pm  Friday & Saturday: 9am – 5pm Marketing Marie and I were delighted to return to the office to continue to raise awareness of Devon's best kept secret! Whilst it hasn't quite been the social event-based summer we may have predicted and prepared for; we have however been busy with creative projects & wonderfully uplifted by the positivity of all on park. To see the beach bustling and the families making memories again really has been superb.Lockdown for many of us was a time of home & garden improvements. For Sharon Sweet and family, regular Ladram guests, they dreamt up an inspired plan ready to put into action as soon as it was deemed safe to do so. Whilst Sharon and family came for their well-needed getaway in July, local artist White Squirrel began his transformation in the Bridgwater property. Taking 4.5 days to create and based upon photos of their holiday memories and paddle boarding sons, this impressive 8x6ft mural was created in time for their return home! We think it's the perfect backdrop to enjoy an evening dip in the hot tub with a G&T in hand and so did the regional and national press! We were overjoyed to receive the Best of the Best 2020 status recently by Trip Advisor. This prestigious award is their highest recognition and is presented annually to those businesses that are the Best of the Best on Tripadvisor, those that earn excellent reviews from travellers and are ranked in the top 1% of properties worldwide. Onward & upward! Carla and Marie  Competition time The search has now begun for inspiring landscape imagery to use within our 2021 calendar & promotional materials. Have you captured some stunning local scenery which you feel deserves pride of place as one of our 12 top shots within our calendar next year? We're looking for photos taken throughout the season, in all weather, of our splendid location plus the flora and fauna on park. To enter, email your imagery to carlanewman@ladrambay.co.uk and we'll be sure to credit you & send a thank you prize too if your image is selected. Please note photos must be of landscape orientation, you must have permission to use the image and it must be high resolution. Photos of individuals cannot be entered on this occasion.Many thanks all.
The Lookout from Ladram – September 2020
As the weather warms up we're looking forward to a hot, fun-filled summer at Ladram Bay and we've been pulling out all the stops to prepare for this year's busiest period! In addition to our recent winter projects, the installation of solar panels and the expansion of our electric vehicle fleet, we're excited to embrace a new challenge for 2020 and focus our attention on our carbon footprint as both individuals, and as a business and reducing our impact by 33%. Winter has seen many improvements to security, lighting and the guest experience – we're sure you'll notice the efforts made.  I'm delighted to announce the return of all key team members plus introduce our new talented & versatile Entertainments Manger Joe Sims, we're certain he'll be a welcome addition to the Ladram team. Our annual team conference prior to the start of season proved to be a valuable experience for all Ladram employees, a chance to focus and share our passion for the season ahead. Inspirational to all, our keynote speaker this year was record-breaking amputee Andy Grant. Andy explained that life will put you in all kinds of challenging situations, but it need not determine you as a person – it's how you react to these challenges. We're proud to have recently been awarded both the Gold Accolade at the Devon Tourism Awards, and just last month presented Silver Status at the SW Tourism Awards, Exeter Cathedral. Carla & the team are all set on attempting the double gold this year – watch this space!  We're excited to be entering our 77th year of Ladram Bay and to still be a park with family at its heart. Cheers to 2020!  Three Rocks Hopefully you're all ready for an exciting 2020! We can't wait to welcome you back in style! As a result of your feedback we're pleased to confirm that our wine menu is expanding and will encompass a broader variety – something for all occasions! Just ask the team for their recommendations. In addition to the delicious wines, we're exploring a few more spirit avenues and will be stocking a selection of Dead Man's Finger Rums. If you fancy a spiced rum with attitude, walk the plank to the bar and indulge in a pirate's life! We will of course be retaining our extensive gin selection whilst introducing some new local products including Copper Frog, made and distilled in Exmouth. Finally, we'll be unveiling a new draught lager; Birra Moretti to tantalise your taste buds.  We were absolutely chuffed with the 2019 menu, but this year we're pushing the culinary boundaries further by expanding our seafood cuisine which utilises a variety of local produce. In addition to this, by popular request we're solidifying some of your favourite specials and placing them onto the menu (look out for our Fowey mussels and duck hash!) Head Chef Matt has spent time modernising and creating our delicious contemporary classics – we're sure you'll be impressed. Be sure to check out our new colourful Poke bowls inspired by the 2019 Buddha Bowl, increasing the range of healthier alternatives available. Don't panic – the super-popular Buddha Bowl remains on the menu!  We are developing our desserts menu and are thrilled to be exhibiting some new extravagant milkshakes. Make sure you leave some room to try one of these! Ladram Shop & Beach Shack With the 2020 season just around the corner the Shop & Shack team are very much looking forward to seeing our venues busy again with your familiar faces! Look out for new additional lines within the shop to further our offering based on your valued feedback, these include a brand-new alcohol display plus additional hot warmer to enable us to expand our hot food offering. Our menu down in the Beach Shack is also developing and with the introduction of our Jacket Potato oven, healthier and delicious alternatives can be offered to fuel your long days at the beach. Coast Takeaway We had a wonderful 2019 & ended the season achieving The Good Chippy Award for the second consecutive year – yet another huge boost to our team knowing we are so appreciated by our loyal customers. This season we are embracing the current trends in vegan/plant-based alternatives. Throughout the winter we have been working with our suppliers to find suitable products that can be served alongside our menu so that no one gets left out at mealtimes. Another improvement we are actively committed to is reducing our carbon footprint at the Takeaway, we have changed our suppliers in the hope that reducing the amount of deliveries will help. We're proud to announce that Coast Takeaway is also now 90% plastics free, thanks to our bio box packaging range, which was fully introduced last season, produced from sugar cane and recycled carboard. Please check our store front for our seasonal opening times. Sports and Leisure With 2019 but a distant memory, we cannot wait to welcome you back to Ladram Bay for a fun-filled 2020! Our swimming pool has had some great updates this season. With the park being so forward-thinking about the environment and caring about our planet, the whole of the pool roof has been covered with solar panels, massively reducing electric usage and as a result, our carbon footprint. The slide step platforms have been improved with new safety flooring and the bubble pool has had some much-needed safety railings installed. A really exciting one for us here in Sports & Leisure is the revamp of our Hover Archery and activity room! We can't give too much away but we are really excited for you to see it! Entertainment It's the start of a new year, and the start of a new season, and in keeping with this theme, we have a few things that are very new for Entertainment here at Ladram Bay. As you may have seen via Facebook, our new Entertainments Manager Joe has taken over from the marvellous Kelly Griffiths. He's extremely excited to get this season underway with such a fabulous team, ensuring that you all experience the five-star entertainment that you've been privy to in previous years. The wonderful Rachel and Emily are returning for another season and we have three newbies joining the Ladram Bay Family. Misty, Al and Zack complete this year's team! All our 2020 Allstars are incredibly talented, and you're guaranteed to experience some remarkable entertainment this season, perfect for all the family. We've brand-new daytime activities, exhilarating new production shows, some fancy additional surprises as well as those fan-favourite visiting acts that you all know and love. It's our mission to keep adding and developing the Entertainment here and we're all looking forward to seeing you in Waves Bar very, very soon. Our 2020 Production Shows are: 21st Century Anthems: A feel good party production that includes music from the last 20 years, including Little Mix, Panic at the Disco, Stevie Wonder and much more. The Great American Road Trip: Jump on board as we journey across the United States of America, stopping at New York, California, Las Vegas and Tennessee. Motion Picture Magic: A collection of iconic movies are being brought to life, with a cinematic spectacle that's jam-packed full of dance, music and comedy. The Music People: The Most Magnificent Mixture of Massive Melody-Makers! Featuring music from Meatloaf, M People, Madness, Madonna and more. Marketing from around the globe! Back in January we were pleased to support the #HeadSouth team led by Alan Chambers MBE & Wayne Hoyle. The dedicated group completed the 60 nautical mile trek across the Antarctic plateau to the South Pole in aid of The Lewis Moody Foundation. On hearing of their challenge plans, and after our previous flag on the North Pole back in 2018, we just had to ask if they'd be so kind to spread the word of Ladram Bay Holiday Park to the opposite site of the world! The expedition endeavours to #TackleBrainTumours and has so far raised over 375k for The Brain Tumour Charity. Support their mission and donate here.
The Lookout from Ladram – March 2020